Car Park Panto: Horrible Histories presents Horrible Christmas
Winter 2020
Car Park Panto: Horrible Histories presents Horrible Christmas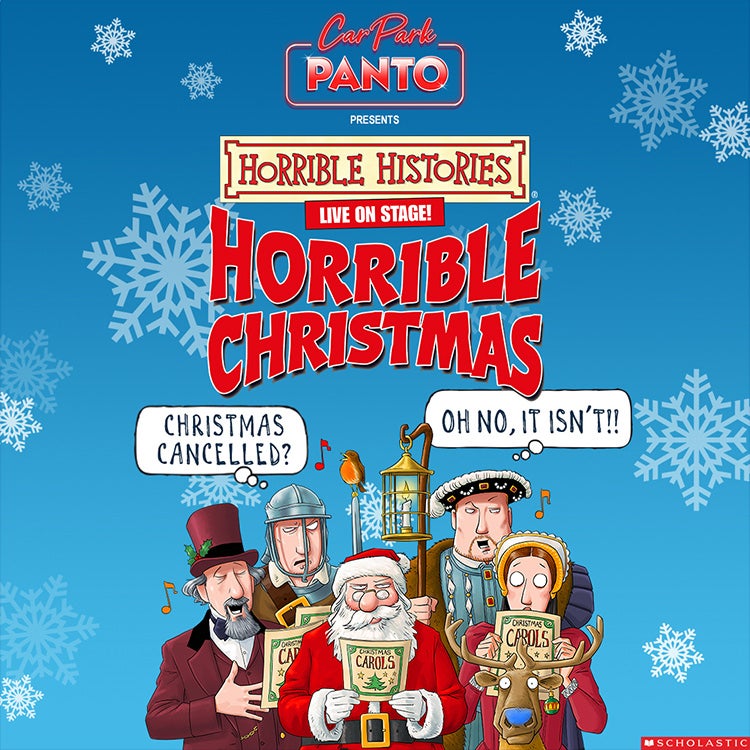 ABOUT HORRIBLE CHRISTMAS
THE WORLD'S FIRST DRIVE-IN CHRISTMAS SHOW COMING DECEMBER 2020
Horrible Histories is back! Load the family into the car and prepare for a Horrible Christmas like none you've ever seen before.
The festive season is in danger. No, not from this year's usual suspects, but from a jolly man in red (gasp!). The future of Christmas rests on one young boy, but he's going to need some help. Join history's super-est super group ever (Charles Dickens! Henry VIII! St Nicholas! Oliver Cromwell?) and buckle up for a hilarious time-travelling journey through a world of Medieval monks, Puritan parties, Tudor treats and Victorian villains.
Christmas in a car park has never been more fun.
FAQ
How much are tickets?
There are limited tickets for each show priced at £47 per sleigh (car) (a £2.50 booking fee applies). Grab the reins and secure your space for the drive-in event of the season.
Who is behind Car Park Party?
Created by Coalition Agency, Car Park Party is bringing Christmas cheer to drive-in venues across the UK for a socially distanced drive-in experience.
What happens if the government changes guidelines?
All tickets have a 100% money-back guarantee, so should government guidelines change, or in the event of cancellation, full refunds will be given.
Is it safe to go to Car Park Panto?
We are working closely with venues and their local authorities to make sure that Car Park Panto is in line with the latest social distancing guidelines to ensure everybody has an enjoyable and safe experience. You should not attend Car Park Panto if you or anyone in your household are experiencing symptoms of COVID-19. A full list of symptoms can be found here.
How is the parking done at Car Park Panto?
A specialist traffic management team will be on site and all vehicles will be parked two metres apart, with clear sightlines to the entertainment in size order, from smaller cars at the front to bigger vehicles at the rear. Customers are advised to stay in their vehicles whilst on-site, leaving only to use toilet facilities and to purchase food and drinks from our on-site vendor, where strict social-distancing measures will be in place.
What happens if my Mini is stuck behind a 4x4?
Our parking team will be on hand to park you in the appropriate place.
Will food and drink be available to purchase at Car Park Panto?
There will be an on-site food vendor serving a variety of hot food (burgers, bacon rolls etc.) and cold soft drinks. Strict social-distancing measures will be in place here.
How do I present my tickets to enter?
Tickets will be scanned through car windows, so no human contact is necessary. We are using a contactless solution.
What time should I arrive?
Please do not arrive more than 30 minutes prior to the start time for your event.
Is there an age restriction?
There are no age restrictions on Car Park Panto, it's the perfect show for the whole family.
Will there be toilets available at Car Park Panto?
Toilet facilities will be provided with strict social-distancing, health and safety management, and sanitation measures in place. Accessible toilets will also be provided.
Is there a limit on people in cars?
No, but you must adhere to your vehicle's legal limits and the government COVID-19 guidelines on mixing households.
Is there a limit on tickets?
No limit, however you will require one ticket per vehicle.
Is it only for people from the same household?
Please refer to the current government advice on mixing households and social distancing.
Is there hearing assistance available for guests?
No. All audio is controlled by your own vehicle.
Is Car Park Panto accessible?
All vehicles will enter through the same route, however accessible toilets will be provided.
Can we leave our car overnight if we're drinking?
No vehicles can be left on site. Please nominate a designated driver. Do not drink and drive.
Will I be allowed out of my car?
Only to use the toilets and you must observe social distancing guidelines.
Do I have to leave straight after the event has finished?
Yes. For your own safety, we will ask you to exit the site when your event finishes, taking all litter with you.
Can I bring my boat?
No. (But maybe next year!?)