Clubs and Dance
Bugzy Malone
About
Mancunian rapper armed with dexterous wordplay
Get the album The Resurrection here
Born in Crumpsall, Manchester, Aaron Davis had a rough childhood in a poverty-stricken household with an absent father, violent stepfather and gangster uncle. He started getting into trouble with the law at the age of 11. Excluded from school a few years later, Davis fell in with a gang and was given the nickname Bugz. When he was 16, he was arrested and sent to prison, where the moniker Bugzy Malone emerged. After being released a year later, he immersed himself in two things: boxing and music.
A fanatic for the sport as a kid, Malone trained with Brian Hughes, who was known as the godfather of Manchester boxing. It gave him something to focus on away from the stress of home and troubles on the street. Although Malone showed talent early on, he said that he didn't have the belief in himself. So when his coach retired about two years into his boxing career, Malone reset his focus on music, aiming to be the very best at that.
Heavily inspired by artists like Tupac Shakur, Dizzee Rascal and Skepta, Malone released his debut mixtape SwaggaMan in 2010 and began freestyling for various TV and YouTube channels. Two more mixtapes followed – Why So Serious in 2011 and Lost In Meanwhile City in 2012. When Malone unveiled his fourth mixtape The Journal Of An Evil Genius in 2014, he also revealed a series of videos with narratives corresponding to each single.
Malone burst onto the scene in 2015 following an appearance on BBC Radio 1Xtra's freestyle show Fire In The Booth, which received millions of views shortly after it was uploaded.
When he released his first EP, Walk With Me, it debuted at No.8 on the UK albums chart. Two more EPs followed – Facing Time in 2016 and King Of The North in 2017 ­– and both broke into the top 10, at No.6 and No.4, respectively.
Malone's debut album B. Inspired arrived in August 2018 and landed at No.6 on the albums chart. Certified silver in the UK, it featured the singles Warning and Drama as well as a collaboration with Rag'n'Bone Man called Run. Later that summer Malone supported fellow Mancunian Liam Gallagher during a huge outdoor show at Lancashire County Cricket Club before heading out on his own B. Inspired UK tour, which at the time was the biggest headline tour for any grime artist.
Malone wrote his sophomore album The Resurrection after a near-fatal motorbike accident in 2020. Leading up to its release in May 2021, he issued several top-charting singles like Salvador and Skeletons. Full of hard-won wisdom and undiluted street delivery, the record also featured collaborations with CHIP on Notorious, Emeli Sandé on Welcome To The Hood and Dermot Kennedy on Don't Cry. To support it, Malone confirmed a UK headline tour for November and December 2021, including a massive hometown show at Manchester's AO Arena.
Bugzy Malone's 2021 UK tour dates
22 November 2021 – O2 Academy Bristol
24 November 2021 – O2 Academy Birmingham
25 November 2021 – O2 Academy Newcastle
28 November 2021 – O2 Academy Leicester
29 November 2021 – The Nick Rayns LCR, UEA, Norwich
30 November 2021 – Rock City, Nottingham
1 December 2021 – indigo at The O2, London
4 December 2021 – AO Arena, Manchester
News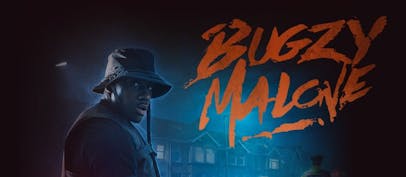 Bugzy Malone announces 2021 UK tour dates
The grime star is performing eight shows across the country kicking off in Bristrol on 22 November and concluding with a huge hometown show at Manchester's AO Arena (his first ever headline tour date at the venue) on 4 December 2021.
FAQS
Bugzy Malone is touring the UK from 22 November – 4 December 2021 in support of his new album The Resurrection.

Bugzy Malone will be visiting the following UK cities in 2021:

Bristol
Birmingham
Newcastle
Leicester
Norwich
Nottingham
London
Manchester

Tickets for Bugzy Malone's 2021 tour dates go on sale from 09:00 on Friday 4 June 2021.