Country/Folk
Brett Eldredge
About
Soulful country singer-songwriter with pop sensibilities
Born and raised in a tiny Midwest town in Illinois, country crooner Brett Eldredge grew up listening to Bobby Darin, Ray Charles and Frank Sinatra, but it was hearing Brooks & Dunn in concert as a teenager that fanned the flames of his passion for soulful country music.
Eldredge attended Middle Tennessee State University, where he studied the vocal stylings of singers like George Jones and Vince Gill. After graduating he launched his music career as a songwriter in Nashville, which helped him land his own record deal with Atlantic in 2010. Later that year Eldredge released two singles – Raymond and It Ain't Gotta Be Love – plus appeared at the Grand Ole Opry.
He struck it big when his debut album Bring You Back arrived in 2013. Acclaimed by critics, it spawned three back-to-back No.1 singles on Billboard's Country Airplay chart: Beat Of The Music, Don't Ya and Mean To Me. Eldredge also expanded his fan base greatly that year after landing a spot as the opening act on the North American leg of Taylor Swift's Red Tour.
His sophomore album, 2015's Illinois, continued his successful streak, producing two more chart-topping singles with Lose My Mind and Wanna Be That Song. Although the track Drunk On Your Love ­– which Eldredge performed for the first time at the wedding of Florida Georgia Line's Tyler Hubbard – only peaked at No.2, it was certified gold by the Recording Industry Association of America.
His third album Glow came out in 2016. Eldredge unveiled the single Somethin' I'm Good At in early 2017, with his eponymous fourth album following late that summer.
When his fifth album Sunday Drive was released in 2020, it saw him delve into more personal topics such as love, loss and acceptance. Working solely using his guitar and a notepad, he wrote all 12 tracks and filled them with honest moments. The lead single Gabrielle, a soulful piano ballad looking back on the end of a romance, was accompanied by a video filmed in the gym and hallways of his high school.
In June 2021, Eldredge announced a UK tour called Good Day for May 2022 to perform his huge playlist of country music hits.
News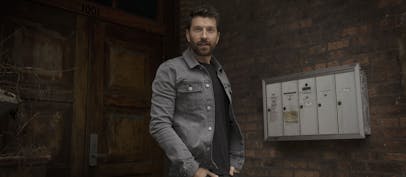 Brett Eldredge announces 2022 tour dates
The country singer is coming to the UK next May to play five shows in Glasgow, Leeds, Birmingham, Manchester and London. Tickets for his Good Day tour go on sale from 10:00 on Friday 18 June 2021.
FAQS
Brett Eldredge is bringing the Good Day tour the UK from 2 – 10 May 2022.

Brett Eldredge will be visiting the following UK cities in 2022 with his Good Day tour:

Glasgow
Leeds
Birmingham
Manchester
London

Tickets for Brett Eldredge's 2021 tour dates go on sale from 10:00 on Friday 18 June 2021.