Alternative and Indie
Bowling for Soup
Events
Loaded 12 out of 12 events
About
Texan princes of pop-punk
Hailing from Wichita Falls, Texas, Bowling For Soup came together in the early '90s. Buddies from school and local bands, they went through several iterations and names – including Folkadots, Slaw and Terminal Seasons – before landing on the original line-up of Jaret Reddick, Chris Burney, Erik Chandler and Gary Wiseman. Inspired by a bit on Steve Martin's A Wild And Crazy Guy comedy album, they also decided to be called Bowling For Soup.
Although the band released a self-titled record in 1994, it wasn't until their 1998 EP Tell Me When To Whoa and follow-up album Rock On Honourable Ones!! that their popularity started to grow. Signed to Jive Records, their first major album Let's Do It For Johnny!! arrived in 2000 and was followed by Drunk Enough To Dance in 2002, which spawned the Grammy-nominated single Girl All The Bad Guys Want. 
A prolific output of EPs and albums ensued including 2004's Hangover You Don't Deserve, 2005's Goes To The Movies and 2006's The Great Burrito Expedition. They released two albums in 2009: Sorry For The Partyin' and Merry Flippin' Christmas Vol 1. In 2011, Bowling For Soup came out with Fishin' For Woos and Merry Flippin' Christmas Vol 2. They unveiled a collaborative album called One Big Happy in 2012 with Patent Pending and The Dollyrots before releasing their ninth studio album Lunch. Drunk. Love. in 2013.
In honour of their 20th anniversary, Bowling for Soup recorded a covers album in 2014 and also re-recorded their Greatest Hits album.
Their 10th studio album Drunk Dynasty was released in 2016 and was the last to feature Chandler, who departed the band in 2019, replaced by Rob Felicetti on bass and backing vocals.
Throughout their career, Bowling for Soup toured extensively. During 2006 and 2007 they performed around the world, stopping in the UK, in conjunction with Army Of Freshmen. The UK dates also included the first of several appearances at Download Festival. In 2009 they returned with The Party In Your Pants headline UK tour. BFS performed UK acoustic shows as part of their 2010 tour, with their 2013 European tour billed as their farewell visit to the continent. The goodbye was short lived as the band came back again in 2016 with their How About Another Round UK tour. They also visited a number of UK venues on their 2018 Get Happy Tour.
In February 2020, Bowling For Soup sold out London's O2 Academy Brixton with their Together Again – You're Welcome tour alongside Simple Plan. The two bands hadn't toured together since 2003.
In early 2021, BFS unveiled the new single Getting Old Sucks (But Everybody's Doing It) and rescheduled their first UK tour focused on seaside towns to April 2022. In May 2021, the band added two additional shows to their 2022 tour at O2 Academy Birmingham and O2 Academy Brixton.
News
Bowling For Soup add dates in Birmingham & London
The band will now play shows at O2 Academy Birmingham on 16 April and O2 Academy Brixton on 23 April 2022 as part of their spring tour of the UK. Tickets go on sale from 10:00 on Friday 28 May 2021.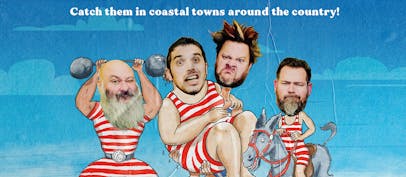 Bowling For Soup reschedules dates
The Texas pop-punks are now bringing their Surf The UK tour across the country from 12 – 22 April 2022. Original tickets remain valid for rescheduled dates.
FAQS
Bowling For Soup are heading across the pond to have some fun in the sun with their Surf The UK tour from 12 – 23 April 2022.

Bowling For Soup's Surf The UK tour will be completely focused on the following seaside towns:

Blackpool
Grimsby
Scarborough
Birmingham (new date added)
Bournemouth
Torquay
Swansea
Bexhill
Margate
London (new date added)

Joining Bowling For Soup on their 2022 Surf The UK tour will be Orange County alt-rockers Lit, along with friends and longtime collaborators The Dollyrots.

Tickets for Bowl For Soup's two new dates in Birmingham and London go on sale from 10:00 on Friday 28 May 2021. Tickets for BFS' other 2022 tour dates are on sale now. Original tickets remain valid for rescheduled dates.