Alternative and Indie
Bon Iver
Events
International Events
1 Events
About
Touring the UK in support of latest album i,i
Buy the latest album, i,i, here
Bon Iver's backstory is now as integral a part of music history as that train Bob Dylan did or did not ride from Minnesota to New York. In 2006, a heartbroken and newly band-less Justin Vernon took himself away to his father's cabin in the woods of Wisconsin and returned with For Emma, Forever Ago, a hushed, haunting account of isolation that crept into the hearts of millions and took up permanent residence.
Word of mouth spread throughout the then-hearty music blog community and the gentle indie folk of Bon Iver grew over the course of 2008 from "critically acclaimed" to "bona fide phenomenon". Bon Iver quickly returned with Blood Bank, a four-track EP of older songs which caught the attention of Kanye West. Vernon was invited to appear on two songs from West's My Beautiful Dark Twisted Fantasy, this seemingly incongruous pairing confirming Bon Iver's crossover appeal.
When Vernon reappeared with Bon Iver's second album, 2011's Bon Iver, it was immediately apparent that the eponymous title was significant. Its leap into lush arrangements, complete with orchestras and horn sections, made For Emma, Forever Ago seem, well, forever ago. Expectations were confounded, critics were divided, but the album still won two Grammys the following year.
Vernon confounded expectations once more by announcing that he was wrapping up the band. Between further collaborations with Kanye West and the revival of another project, Volcano Choir, it seemed his attention was needed elsewhere. Vernon continued to keep busy, popping up occasionally as Bon Iver, co-curating the Eaux Claires Music & Art Festival with Aaron Dessner of The National and continuing to be in demand with other artists.
Despite protestations from Vernon that Bon Iver was still in hibernation, the band unveiled two new songs live at Eaux Claires in 2015. Eventually, in 2016, Vernon admitted that a new album would shortly be forthcoming. That album was 22, A Million, released in September 2016 to a much more unanimously positive reception. Where Bon Iver flipped the stark mood of the debut on its head, 22, A Million, chopped it into tiny pieces, fed it through a collapsing star and received it back via a glitching supercomputer. By far Vernon's most complex, ambitious and intricate work, its unusual textures couldn't conceal the trademark yearning that had defined the band's work from the beginning.
In 2018, Vernon again began debuting new songs live, leading to assumptions that a new album was on the way. Arriving in 2019, i, i featured a festival's worth of guest stars, including Moses Sumney, Bruce Hornsby, The Staves and The National's Bryce and Aaron Dessner. It received three Grammy nominations. Shortly after the album's release, Bon Iver announced a UK tour for 2020 that was later postponed.
In 2020, Vernon appeared on Taylor Swift's folklore and evermore albums, produced by his regular collaborator Aaron Dessner. In July 2021, the band announced that their huge UK tour had been rescheduled to October 2022.
News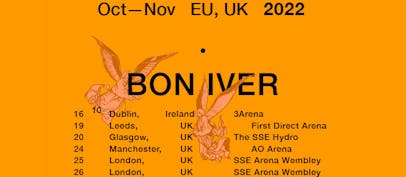 Bon Iver announces rescheduled dates
The band's huge UK shows will now take place from 16 – 26 October 2022. Original tickets remain valid for rescheduled dates.
FAQS
Yes, the tour originally intended for 2020 has been moved to 19 – 26 October 2022.

The band are playing two nights at The SSE Arena, Wembley on 25 and 26 October 2022.

Bon Iver are playing the following UK cities in 2022:

Leeds
Glasgow
Manchester
London (two nights)

Support comes from Aaron Dessner's Big Red Machine.

Tickets for Bon Iver's 2022 tour dates are on sale now. Original tickets remain valid for rescheduled dates.