Events
Loaded 20 out of 21 events
About
Beloved British comedian and panel show perennial
World-renowned British stand-up Bill Bailey is one of the most loved comedians in the business with his musical virtuosity, surreal tangents and trademark intelligence. He often tackles topics like politics, philosophy and the pursuit of happiness. 
Since the early '00s, Bailey has been wowing audiences with his live shows. In 2001, he crossed the pond bringing Bewilderness to New York for eight weeks, while 2004 saw him perform Part Troll at over 50 venues around the UK.
His comedic extravaganza Tinseltown helped earn him a reputation for outrageous routines. In 2007, Bailey took it on a sold-out UK arena tour, then headed to Australia and New Zealand in 2008, before returning home for a 10-week residency at London's Gielgud Theatre. 
The passing years brought more live shows, each with different twists and replete with musical offerings. From 2009's Bill Bailey Live and Bill Bailey's Remarkable Guide To The Orchestra, to 2010's Dandelion Mind and 2015's Limboland, he has been selling out venues and raking in critical acclaim.
The Evening Standard says that "Bailey live is a joy to behold", while The Telegraph calls him "one of the funniest and most brilliantly original comedians around".
In addition to being a comedian, Bailey is also an actor, panellist and presenter. Known for his role in the offbeat TV sitcom Black Books, where he played the blissfully naïve ex-accountant Manny Bianco opposite fellow comic Dylan Moran, he's also been seen on Jonathan Creek, Skins and Midsomer Murders and in Edgar Wright's Hot Fuzz. Bailey was also a team captain on Never Mind The Buzzcocks and a regular face on QI and Have I Got News For You.
In 2018, Bailey launched the Larks In Transit tour, his compendium of travelers' tales and general shenanigans over 20 years as a travelling stand-up performer. Again he sold out venues both at home and abroad, ending 2019 with a five-week residency at London's Wyndham Theatre. Over 350,000 people saw Larks In Transit before he had to cut the final leg of his tour short due to the global pandemic.
Bailey is a prolific writer with numerous books under his belt. The Bill Bailey's Remarkable Guide To Happiness, a collection of funny and thoughtful essays exploring the nature of happiness, was published on 15 October 2020.
On 30 September 2020, Bailey announced his En Route To Normal tour would be heading to UK arenas in December 2021. Prior to that, Bill Bailey announced a brief run at the Lyceum Theatre in London for a Christmas Larks special beginning on 28 December 2020.
Bill Bailey's 2020 UK tour dates
20 December 2020 to 3 January 2021 – Lyceum Theatre, London
Bill Bailey's 2021 UK tour dates
12 December 2021 – Plymouth Pavilions
13 December 2021 – Plymouth Pavilions
14 December 2021 – Bournemouth International Centre
15 December 2021 – Motorpoint Arena, Cardiff
16 December 2021 – Bournemouth International Centre
18 December 2021 – First Direct Arena, Leeds
19 December 2021 – Bonus Arena, Hull
20 December 2021 – Utilita Arena, Newcastle
21 December 2021 – Birmingham Arena
22 December 2021 – AO Arena, Manchester
23 December 2021 – Motorpoint Arena, Nottingham
26 December 2021 – The SSE Arena, Wembley, London
News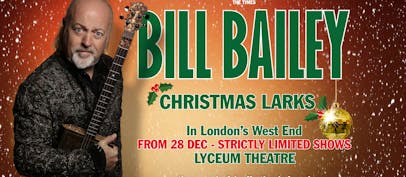 Bill Bailey announces Christmas Larks gigs
He'll play a series of shows in the West End this festive season.
FAQS
Bill Bailey will appear from 28 December 2020 at the Lyceum Theatre with his Christmas Larks show. He will then bring his new En Route To Normal show across the UK from 12 – 26 December 2021.

Bill Bailey has announced a limited run of dates at the Lyceum Theatre in London, starting from 28 December 2020.

Presale tickets are now available. Tickets go on general sale from Friday 27 November 2020.

Bill Bailey will appear in the following UK cities:

London (December 2020 to January 2021)
Plymouth (for two shows)
Bournemouth (for two shows)
Cardiff
Leeds
Hull
Newcastle
Birmingham
Manchester
Nottingham
London

Bill Bailey tickets for his En Route To Normal tour are available now.

In his new show, Bill Bailey will be pondering questions that this moment in history has thrown up, while trying to see a way through the strange unreality of the new normal. Tracing lines through chaotic moments in history, he'll seek parallels where human resilience has gotten us through times of strife. He'll also recount his own experiences of dealing with isolation, while sharing songs and a heartwarming mix of stories. Bailey will even rhapsodise on his new found love – skydiving.