Events
International Events
1 Events
About
Brutally extreme Polish band blending black and death metal
Controversial Polish outfit Behemoth trade in a potent mix of death and black metal. From their inception in Gdansk in the early '90s, they've gone through countless personnel changes and even incurred the wrath of their country's government, earning themselves a criminal charge for tearing up a Bible.
Frontman Nergal (aka Adam Darski) has been one of the only constants throughout the band's existence – alongside a relentless commitment to religious provocation and brutally extreme metal. Following several years of circulating demos, the band released their debut album, Sventevith, in 1995 to great acclaim within the metal underground.
The band continued at a prolific pace throughout the '90s, before hitting a resounding run of critically acclaimed records in the early '00s with Thelema.6, Zos Kia Cultus: Here And Beyond and 2004's seminal Demigod.
In 2010, frontman Nergal was diagnosed with leukaemia, forcing the band to go on hiatus. Following his recovery, Behemoth returned in 2014 with their first top 40 album in the US, The Satanist. The band continued to move beyond face-meltingly extreme metal with their 2018 album, I Loved You At Your Darkest.
In 2020, Behemoth released the A Forest EP, containing a cover of The Cure song of the same name. Later that year, they announced a 2021 tour alongside Swedish death metallers Arch Enemy, grindcore pioneers Carcass and Portland goth metal outfit Unto Others (formerly Idle Hands).
News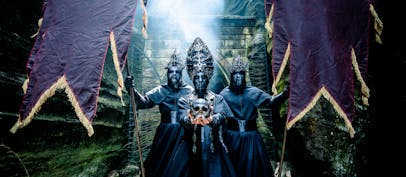 Behemoth announce UK tour with Arch Enemy, Carcass and Unto
The heaviest tour of 2021 will visit London, Manchester, Glasgow, Birmingham and Dublin in September and October