Rap and Hip-Hop
Beat Horizon
Line up
David Rodigan
Chip Shop
HHBITD
Events
We're sorry, but we couldn't find any events
About
The coolest one-day bass, beats and hip hop festival imaginable
Beat Horizon is the UK's premier curator of underground culture. Known for creating amazing one-day festival experiences, they bring together some of the world's top musicians for unmissable live music events.
In early 2021, Beat Horizon revealed details for a massive evening of bass on 8 October followed by a huge hip hop evening on 9 October 2021 – both at London's O2 Forum Kentish Town.
In August 2021, organisers announced these two events would instead be merged into one "epic collision of underground culture" and moved to London's sprawling Printworks venue in Rotherhithe, South London.
The colossal all-nighter will be headlined by David "Ram Jam" Rodigan. He was awarded an Order of Distinction by the Jamaican government in August 2020 for his global promotion of Jamaican music. Over the years, Rodigan has held radio residencies on numerous stations and currently plays the best in reggae and dub music on BBC 1Xtra.
Also topping Beat Horizon's big bill is LTJ Bukem, aka Danny Williamson, a musical visionary in the drum'n'bass world who helped make jungle one of the hottest genres of the late '90s.
Alongside them will be award-winning rapper, poet, playwright and political activist Lowkey (born Kareem Dennis), jungle producer and toaster Congo Natty (widely known as the Rebel MC) and dubstep production duo Digital Mystikz consisting of Mala (born Mark Lawrence) and Coki.
In addition, Detroit pioneers Slum Village, who got their start in the early '90s and are known for their huge 2004 hit Selfish featuring Kanye West and John Legend, will be there. Although they've been through numerous line-ups over the years, the crew's 2019 release The Source EP is as prolific as ever.
Plus, expect a wide variety of bass sounds and rap styles because Beat Horizon's mammoth event will also play host to Jungle Cakes, Storm, Dillinja, Mr Thing, Chip Shop, HHBITD, Real Roots and many more.
News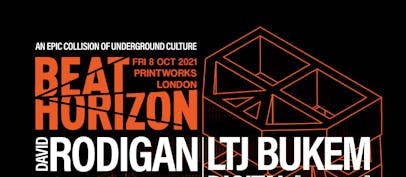 Beat Horizon announces epic collision of underground culture
Don't miss this evening featuring the heaviest bass and hottest hip hop line-up of the decade at London's Printworks on 8 October 2021.
FAQS
Beat Horizon has planned a massive night dedicated to underground culture for 8 October 2021.

Beat Horizon's unmissable bass-meets-hip hop event will be held at London's Printworks.

The line-up for Beat Horizon's 8 October 2021 event at Printworks is topped by David Rodigan and LTJ Bukem, alongside Lowkey, Congo Natty, Jungle Cakes, Mr Thing, Chip Shop, Real Roots, Digital Mystikz, Slum Village, Storm, Dillinja, HHBITD and Real Roots.

Tickets for Beat Horizon's 8 October 2021 date are on sale now. Original tickets remain valid for the rescheduled date.