Secret London Location TBC
Batman Arkham Asylum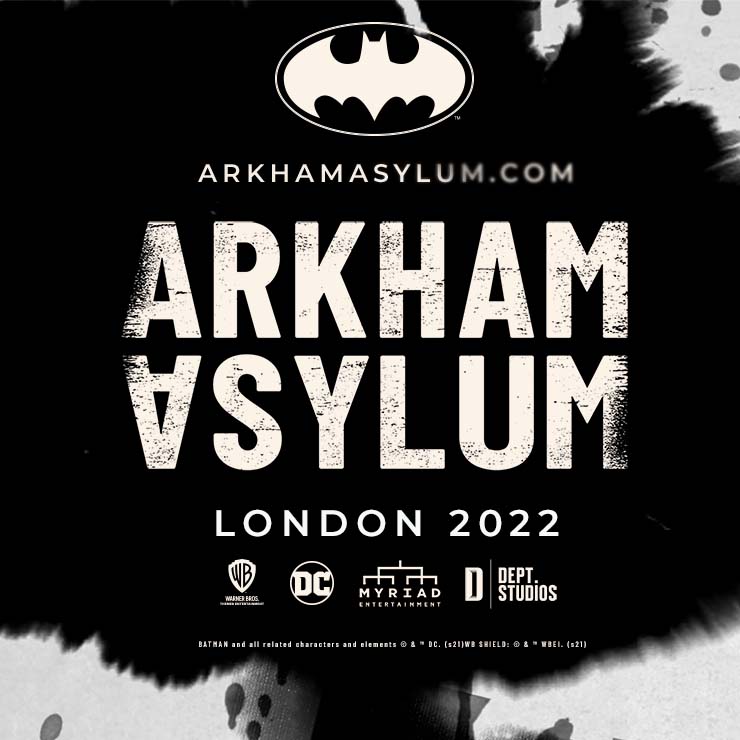 ARKHAM ASYLUM LIVE IMMERSIVE EXPERIENCE
Brought to you by Department Studios, Inc., Myriad Entertainment and Warner Bros Themed Entertainment
Set in a vast, multi-sensory recreation of the psychiatric hospital, Arkham Asylum will be an epic alternate reality, combining futuristic technology and interactive theatrics with a wholly original story to create an unforgettable experience.
Audiences are invited to lose themselves in the infamous asylum, crossing paths with some of Gotham City's most iconic DC characters: Batman, Scarecrow, Catwoman, Poison Ivy and many more...
Opening September 2022
Tickets on sale now
**BATMAN and all related characters and elements © & ™ DC (s21). WB SHIELD: © & ™ WBEI. (s21)**
BATMAN ARKHAM ASYLUM TICKETS
Tickets on sale now
Batman Arkham Asylum Tickets
FAQs
Event/Venue Questions
What is Arkham Asylum?
Brought to you by Dept. Studios, Myriad Entertainment, Warner Bros and DC, Arkham Asylum presents the world's first immersive journey into Gotham City. This uniquely thrilling theatrical experience offers you the chance to explore the world of Batman as you never have before. Enter the iconic psychiatric hospital and spend an evening alongside its bravest heroes and most infamous patients as an epic, multi-sensory narrative unfolds around you.
What does 'immersive' mean?
Immersive experiences put the audience at the heart of the story. You are not a passive spectator; you are a citizen of Gotham City, and have the chance to play an active role in the world they've built.
Do I need to know the story?
Not at all. This is an original story: based on the comic books and graphic novels featuring Batman and his array of associated characters, but written specifically for this medium. If you don't already know the heroes and villains of Gotham City, this is your opportunity to meet them in the most unique way possible.
How much audience participation will there be?
There are plenty of opportunities to participate and myriad ways to personalise your journey. Wallflowers are welcome; but the more you play, the more you see.
When will Arkham Asylum be opening?
Arkham Asylum Live Immersive Experience will be opening autumn 2022.
What are the venue's opening hours?
Check the event when booking for available show entry times.
How long is the experience?
Arkham Asylum is approximately 110 minutes in length.
What should I wear?
Please do not arrive in a themed costume or dress up as one of the characters in the production. It's recommended you wear comfortable clothing and flat trainers or shoes. High heels, flip flops or similar are not suitable and their team reserves the right to refuse entry for health and safety reasons.
What is the recommended minimum age?
The event is 18+. Arkham Asylum will challenge 25 so ID may be required or you may be refused entry. If you are lucky enough to look under 25 you will be asked to prove that you are aged 18 or over, in the form of ID – driving license or passport.
Does the bar take cash or card?
This is a cashless venue, no cash will be accepted on site. They will be implementing RFID – contactless payments – prepaid to your account before your visit, please ensure you bring your debit card, credit card, smartphone or smartwatch for digital payments.
Can I bring my own food and drink to the venue?
No, all food and drink will be removed on arrival. You will be able to purchase alcoholic and non-alcoholic beverages throughout the experience.
Will there be merchandise for sale?
Yes, they have a full range of themed merchandise available to purchase.
Is there somewhere to store personal belongings?
Yes, there will be a cloakroom as you enter the venue, and you will be able to pick up your belongings on your way out. They provide complimentary lockers to store any small bags or loose articles and you will be given instructions on how to use them upon arrival. Please note, they will not be held responsible for any lost or stolen items.
Mobile phones and recording devices are not permitted in the experience and they will ask for these to be stored with your personal items.
Will there be any seating?
No, this is a roaming experience. If you have accessibility requirements, please contact the team access@arkhamasylum.com for assistance with this.
Are toilets available throughout the performance?
Yes, there will be toilets located throughout the venue.
What time should I arrive?
Please arrive 15 minutes before the time stated on your ticket so they can make sure you can enter Arkham Asylum at the correct time, ensuring you have enough time to check in and store any personal belongings before entering the experience. Unfortunately, they are unable to accommodate latecomers.
What happens if I arrive late?
No late entries will be permitted.
Can I leave and re-enter the production?
No re-entry allowed. If you need to leave, let FOH know and they can help you exit the experience.
Are there parking options?
There are no parking options included in the experience. For access requirements please contact access@arkhamasylum.com
What are the prohibited items at the experience?
Alcoholic beverages
Animals / pets - including guide dogs due to the nature of the production
Audio Recording Devices
Drones
Drugs & drug paraphernalia
Flammables (fireworks, explosives, road flares, etc.)
Flashlights
Laser pointers
Recording devices including professional cameras (smartphone cameras are allowed but will be confiscated during the performance)
Promotional Items / Unauthorized Solicitations / Vendors (Including flyers, samples, giveaways)
Selfie sticks / tripods
Toy guns / water guns / prop guns
Video cameras
Weapons (guns, ammo, pocketknives, tasers, pepper spray, etc., including off-duty law enforcement or concealed carry permits)
Note: They do not tolerate fighting, taunting, threatening remarks or gestures towards cast members.
Can I take photos or record the experience?
To keep everyone's experience a surprise, no photography or phones are permitted.
Can I smoke or vape?
No smoking or vaping in the venue.
Is alcohol permitted at the experience?
No one is permitted to bring alcohol to the venue, but both alcoholic and soft drinks will be available to purchase within the experience.
Are there any weather restrictions?
No, the event is indoors.
Can I book Arkham Asylum for a team-building exercise, office party or office away day?
For information regarding corporate bookings please contact info@arkhamasylum.com
Is the venue accessible to a wheelchair?
The venue is wheelchair accessible.
What do I do if I have questions about accessibility and special accommodations? I have specific requirements, can you assist?
Please email access@arkhamasylum.com
Do you offer essential companion tickets for carers?
Patrons holding a valid Freedom Pass, Blue Badge or equivalent (including PIP/DLA recipients) are entitled to one free carer ticket, provided they contact the Event Provider on info@arkhamasylum.com for more information before booking to confirm the accessibility of the venue and to reserve a carer ticket. Please allow a minimum of 72 hours for your enquiry to be processed.
What happens if I need assistance or need to make an emergency exit mid show?
You will be able seek assistance from any of their FOH team who will support you throughout the show, assisting in exiting from the experience if needed.
Can I take part in the experience if I'm pregnant?
This is not a seated performance and you'll be required to stand throughout the experience. They endeavour to make the experience suitable for guests who are pregnant, if you have any queries please contact them on access@arkhamasylum.com
Are you casting for actors?
Casting will begin in spring 2022. Keep an eye out for casting calls on the usual casting sites.