Events
Loaded 20 out of 79 events
About
The street dance troupe with eye-popping routines
London-based street dance crew Diversity got their start in 2007. Founded by choreographer Ashley Banjo and his younger brother Jordan, they were initially known as Swift Moves Juniors. Specialising in everything from popping and breakdance to acrobatics, the troupe quickly grew in number and even added another set of brothers – Sam and Mitchell Craske.
The troupe rose to fame in 2009 when they won the third series of Britain's Got Talent. By that time they were a very diverse group of people who not only ranged in age between 12 and 25 years old, but also in everything from educational pursuits to race and height, so the name Diversity was a natural fit.
Immediately after their BGT win, Diversity scored a host of big gigs including appearances at Wireless Festival, in a Michael Jackson tribute at Blackpool's Winter Gardens, and for Prime Minister Gordon Brown outside 10 Downing Street.
With their first UK tour in 2010 selling out in 24 hours, Diversity soon landed commercials and slots on TV shows, as well as creating an exercise DVD titled Dance. Fitness. Fusion. In 2012, they headed out on the Digitised – Trapped In The Game UK arena tour, with their performance at The O2 filmed and later released on DVD. Diversity also were among the many torch bearers at the London 2012 Summer Olympics, also taking part in the closing ceremony of the first Invictus Games in 2014.
The late 2010s saw various members of Diversity – particularly Ashley, Jordan and Perri Kiely – appear on or host a number of TV programmes and charity functions.
With 2019 marking 10 years since Diversity took the nation by storm on of Britain's Got Talent, they celebrated with their ninth critically acclaimed sell-out UK tour Born Ready. That Christmas, the dance crew also appeared in the panto Robin Hood And The Merry Men Christmas at Southend's Cliffs Pavillion, with Ashley in the title role.
In 2020 the world-famous group announced their biggest UK tour to date for spring 2022. Called Connected, the show was designed around the world of social media, the internet and the digital era. In April 2021, Diversity added 10 extra dates to their Connected tour, visiting 33 towns and cities across the UK and Ireland over four months from 17 March – 19 June 2022. Due to phenomenal demand, the group also added an extra date at Wales' new venue Swansea Arena for 7 June 2022.
Diversity's 2022 Connected tour dates
17 March 2022 – Llandudno Venue Cymru Theatre
18-19 March 2022 – Reading Hexagon
21-22 March 2022 – Leicester De Montfort Hall
24-26 March 2022 – Southend Cliffs Pavilion
28-29 March 2022 – Aylesbury Waterside Theatre
1-2 April 2022 – Nottingham Royal Concert Hall
3 April 2022 – Hull Bonus Arena
4 April 2022 – York Barbican
7-10 April 2022 – London Palladium
14-16 April 2022 – Birmingham Alexandra Theatre
18-20 April 2022 – Northampton Derngate
22 April 2022 – Blackpool Opera House
23 April 2022 – Edinburgh Usher Hall
24 April 2022 – Halifax Victoria Theatre
27 April 2022 – York Barbican
29-30 April 2022 – Liverpool Philharmonic Hall
1 May 2022 – Sheffield City Hall
2 May 2022 – Carlisle Sands Centre
5-7 May 2022 – Manchester Opera House
8 May 2022 – Harrogate Convention Centre
11-13 May 2022 – Guildford G Live
14 May 2022 – Cardiff Motorpoint Arena
15 May 2022 – Plymouth Pavilions
17-18 May 2022 – Gateshead Sage
19-21 May 2022 – Glasgow King's Theatre
24-26 May 2022 – Stoke-On-Trent Regent Theatre
28 May 2022 – Bournemouth International Centre
29 May 2022 – Brighton Centre
30-31 May 2022 – Oxford New Theatre
2 June 2022 – Belfast Waterfront
3 June 2022 – Dublin 3Arena
5-6 June 2022 – Bristol Hippodrome
7 June 2022 – Swansea Arena (new date added)
10-11 June 2022 – Ipswich Regent
13-14 June 2022 – Birmingham Alexandra Theatre
15-16 June 2022 – Stockton Globe
18-19 June 2022 – Southend Cliffs Pavilion
News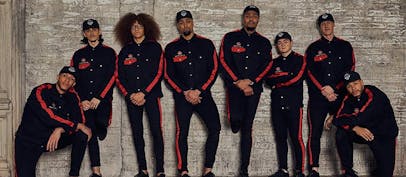 Why families should go and see Diversity
We sent 10-year-old Alfie to the opening night of their Born Ready – The 10th Anniversary Tour.
FAQS
The popular dance troupe are heading out on their Connected UK tour from 17 March – 19 June 2022.

Diversity's Connected tour stops in the following cities:

Llandudno
Reading
Leicester
Southend
Aylesbury
Nottingham
York
London
Birmingham
Northampton
Hull
Blackpool
Edinburgh
Halifax
Liverpool
Sheffield
Carlisle
Manchester
Harrogate
Guildford
Cardiff
Plymouth
Gateshead
Stoke-On-Trent
Glasgow
Bournemouth
Brighton
Ipswich
Oxford
Stockton
Bristol
Swansea

To take Diversity into the new decade, creator and choreographer Ashley Banjo has designed Connected to centre on the way social media, the internet and the digital era connect us all. About the show, he said: "I truly do believe that we are all connected in mores ways than one and I cannot wait to bring this to life on stage."

Tickets for Diversity's newly added Swansea tour dates go on sale from 10:00 on Friday 17 September 2021. Tickets for all other Connected 2022 tour dates are on sale now.