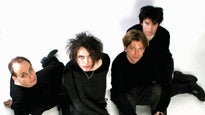 Alternative and Indie
The Cure Tickets
The Cure Tickets and Concert Dates
Biography
Formed in the aftermath of Punk Rock's explosion in Britain in the 1970s, the Cure have become on of the most enduring British bands of modern times, influencing a sphere of musicians and paving the way for the Goth movement.

They have released a series of classic albums since 1979, ranging from the dark introspection of Pornography to the more pop oriented efforts like The Head on the Door and Wish.

Hit singles for the band in their thirty year career include Friday I'm in Love, Just Like Heaven, Lovesong and Lullaby.

From the artist



The Cure VIP
The Ultimate Bar BST 2018 from Event Travel
Find out more
»