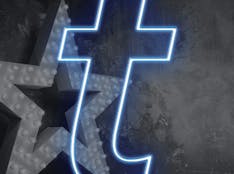 Events
We're sorry, but we couldn't find any events
About
Known for being fierce and pushing boundaries, Queen Bey reigns with the power of pure female dominance
A star since she was a child, Beyoncé was destined for greatness, travelling steadily on a path toward mega stardom. From a talented singer and dancer, she evolved into a multifaceted powerhouse performer, global music phenomenon and social provocateur with a solo discography that celebrates independent women. Over the years, she's fallen dangerously in love, become Sasha Fierce and then Mrs Carter, plus celebrated her culture and identity by getting in formation.
Before being known by just one name, she was born Beyoncé Giselle Knowles in Houston. As a young girl, she performed in choirs and went to a performing arts school. In 1990, Beyoncé auditioned for a rapping/dancing girl group with her friend Kelly Rowland. They were both selected and joined Girls Tyme. The group competed in 1993's Star Search talent series and lost to a band called Skeleton Crew.
Shortly after, they were renamed Destiny's Child and Beyoncé's father took over as manager. In the late 90s, the group scored their first hit with No, No, No. By the early 00s, with Beyoncé at the helm as lead singer and Michelle Williams on board, the trio scored four Billboard No.1s with Say My Name, Independent Woman Part 1, Bootylicious and Bills, Bills, Bills. They also won three Grammys and went on to become one of the world's best-selling girl groups of all time.
In 2002, with Destiny's Child on hiatus, Beyoncé appeared as Foxy Cleopatra in the film Austin Powers In Goldmember starring Mike Myers. She also recorded her first solo single, Work It Out, for the soundtrack.
Beyoncé launched her career as a solo artist in 2003 with the debut studio album Dangerously In Love, which was supported by her first worldwide tour. A huge success, the record spawned the No.1 singles Baby Boy and Crazy In Love featuring her then-boyfriend Jay-Z. 
Often compared to The Supremes, Destiny's Child reunited in 2004 and released their fourth album, Destiny Fulfilled. However, within two years they officially disbanded.
Early in 2006, Beyoncé appeared as pop superstar Xania in The Pink Panther movie starring Steve Martin. Her first video album B-Day followed on what was the singer's 25th birthday. Beyoncé also was featured in another film released that year, the musical Dreamgirls. Alongside Jennifer Hudson and Anika Noni Rose, she appeared as the gorgeous lead singer Deena Jones (a role based on Motown star Diana Ross), while writing and performing the song Listen.
Her third album, I Am… Sasha Fierce, came out in 2008 and earned six Grammys, buoyed by the smash hit songs Halo, If I Were A Boy, Sweet Dreams and Single Ladies (Put A Ring On It). Beyoncé took Sasha Fierce as her on-stage, all-powerful alter ego – plus that year she also married Jay-Z.
The I Am… World Tour kicked off in early 2009, while the black-and-white video for Single Ladies, with Beyoncé in an asymmetrical leotard and high heels, grew to be massively popular and was soon covered and parodied the world over. It won her several awards at the 2009 MTV Video Music Awards – and also famously didn't win one category. After the Best Female Video was given to Taylor Swift and her acceptance speech got cut short by Kanye West declaring "Yo, Taylor, I'm really happy for you, I'mma let you finish, but Beyoncé had one of the best videos of all time", Beyoncé gave up her own acceptance speech to graciously bringing Swift back up on stage.
Beyoncé split from her long-time manager – who was her father – in 2011 and released her fourth album, 4, spawning the hits Run The World (Girls) and The Best Thing I Never Had. That summer she also made a heavily lauded appearance at Glastonbury on the Pyramid Stage and then two months later announced her first pregnancy at the MTV Video Music Awards before performing Love On Top. Beyoncé gave birth to daughter Blue Ivy in New York City in early 2012.
Preceded by the huge hit singles XO and Drunk In Love, her eponymous record arrived by surprise on iTunes in 2013. A visual album, it not only featured videos for each track, but also included part of Chimamanda Ngozi Adichie's TED talk titled We Should All Be Feminists.
Early in 2013, Beyoncé performed the national anthem at the second presidential inauguration of Barack Obama and reunited with Destiny's Child as part of the Super Bowl XLVII halftime show before embarking on The Mrs Carter Show World Tour, which would continue into 2014. During the lengthy 132-show run, Jay-Z made many guest appearances and after it wrapped, the powerful pair headed out together with their On The Run Tour.
Beyoncé's second visual album Lemonade was unveiled exclusively on Jay-Z's Tidal platform in spring 2016 and supported by five huge singles: Formation, Hold Up, Sorry, All Night and Freedom featuring Kendrick Lamar. The concept project was accompanied by a 65-minute art film of the same title that included Quvenzhané Wallis and Serena Williams as well as powerful appearances from the mothers of Trayvon Martin, Michael Brown and Eric Garner and even home video footage of Blue Ivy, Beyoncé's mother Tina Knowles and Jay-Z's grandmother Hattie White.
A day after revealing the video for Formation, Beyoncé made her first live performance of the chart-topping hit track at Super Bowl 50 during the halftime show, which was filled with references to Malcolm X, the Black Panthers and the Black Lives Matter movement. The Formation World Tour ran for much of 2016, while Lemonade was certified platinum in the UK and nominated in numerous categories at the 2017 Grammy Awards.
Also in 2017, Beyoncé and Jay-Z welcomed their twins, Sir Carter and Rumi. After undergoing a rigorous diet and exercise schedule, she returned to performing the following year with two monumental appearances at Coachella. As the first Black woman to headline the music and arts festival, she took the opportunity to showcase African American culture while personally selecting every detail for the massive two-hour shows – from each performer (there were nearly 100 dancers, singers and musicians backing her on stage) to the material used for the costumes and even on the steps. Live-streamed around the world, audiences also saw Jay-Z join in for Déjà Vu, her sister Solange appear in Get Me Bodied and Destiny's Child reunite for a medley.
Under the name The Carters, Beyoncé and Jay-Z unveiled their first-ever joint studio album Everything Is Love later in the summer of 2018. They also hit the road together again with their On The Run II Tour, visiting several UK cities and performing a massive 35-song setlist complete with a 26-person orchestra.
In 2019, Beyoncé's concert film Homecoming – which she wrote, directed and produced about her Coachella experience and the eight months of preparation it involved – came out on Netflix. She followed the documentary's release with Homecoming: The Live Album featuring the entirety of her performances.
Following in the footsteps of Lamar's Black Panther, Beyoncé collaborated with Disney on their live-action reboot of The Lion King in 2019. In addition to voicing the adult Nala in the film, she also released a 14-track album called The Lion King: The Gift featuring guest vocals from Jay-Z, Pharrell, Wizkid, her co-star Childish Gambino and many others.
In 2020, Beyoncé contributed some original verses on the remix of Megan Thee Stallion's hit song Savage. She also released the charity single Black Parade, which scored a Grammy for Best R&B Performance, along with the musical film and visual album Black Is King. Telling the story of a young African prince exiled from his kingdom after his father's death, the song Brown Skin Girl landed her another Grammy for Best Music Video.
Beyoncé continued her film work in 2021 by providing the song Be Alive to the soundtrack of Richard Williams, a biographical movie chronicling the story of Venus and Serena Williams' father, played by Will Smith, who coaches his daughters to become two of the most prominent tennis stars in the world.