About
The world's most famous rugby club
The Barbarians are steeped in history, with roots dating back to the late 1800s. Conceived by William Percy Carpmael, the idea was simple: spread good fellowship by creating a team made up of the greatest rugby football players from around the world. Thus, Barbarian F.C. was born, with neither ground nor clubhouse, and its membership was by invitation only. Over the years, 31 different nationalities have represented the Baa-Baas.
Their jersey has always been black and white, worn with dark shorts and each player's club stockings. The logo is made up of the letters B, F and C intertwined.
The Barbarians debut matches were played in 1890 against Hartlepool Rovers, Bradford and Swinton – with the team claiming a victory over their first opponent and a draw with their second, while the game was abandoned due to frost with their third.
Barbarian F.C. typically play just a handful of matches each year – most recently taking on the likes of Argentina, Brazil, Wales, Australia, England, Tonga and South Africa. One of their all-time most memorable games was versus New Zealand in 1973 as part of an international tour. Played against the formidable All Blacks with a grinding style and fearless attitude, it included six tries and resulted in a famous 23-11 win for the Barbarians.
The Baa-Baas are also known for competing in the Killik Cup, a game where they face national teams and a Rugby Union trophy is awarded. The last edition of the Killik Cup took place in 2019 against Fiji. The thrilling match featured five tries apiece and resulted in a narrow 31-33 loss for the Barbarians, which were spearheaded by Rory Best, Mathieu Bastareaud, Makazole Mapimpi and Tendai "The Beast" Mtawarira.
In April 2021, organisers announced the invitational rugby team would next take on Samoa for the Killik Cup on Saturday 27 November 2021. The two sides are set to meet for the second time ever at London's Twickenham Stadium. Their first clash was at London's Olympic Park ahead of Rugby World Cup 2015.
"With our long history of playing with our trademark style of flair, courage, spirit and passion, the Barbarians love lining up against exciting international sides like Samoa and we know this fixture will be an unforgettable rugby experience," said John Spencer, president of Barbarian F.C.
As an international club, the Baa-Baas have had many Samoan greats don the black and white shirt, with some of the most recent being Paul Williams, Tusi Pisi, Census Johnston and Kahn Fotuali'i.
"Playing the Barbarians is a wonderful opportunity for any nation," added Faleomavaega Vincent Fepuleai, the CEO of Lakapi Samoa. "They come with a great tradition and reputation and provide a hallmark for fantastic running rugby."
News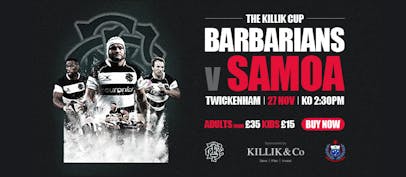 The Barbarians will face Samoa this autumn
The two sides are set to meet at Twickenham Stadium for the Killik Cup on Saturday 27 November 2021. Tickets go on general sale from 10:00 on Thursday 15 April 2021.
FAQS
Barbarian F.C. are set to face Samoa for the Killik Cup on Saturday 27 November 2021, with kick-off at 14:30.

The Barbarians will compete in the Killik Cup against Samoa this autumn at London's Twickenham Stadium.

Tickets for the Barbarians v Samoa 2021 match go on general sale from 10:00 on Thursday 15 April 2021. Get tickets 48 hours early in the presale which opens at 10:00 on Tuesday 13 April 2021.

Tickets for the Barbarians v Samoa 2021 Killik Cup match are priced from £35 for adults and £15 for children plus fees.

Made up of players from different clubs across the globe, the Barbarians always have a rich blend of talent. They compete in just a few matches each year where camaraderie runs high and fans are treated to some big hits, gritty play and thrilling day of sport.