About
The Buffalo-based hardcore heroes
Spearheaded by brothers Keith and Jordan Buckley plus macho man friend Andy Williams, the metalcore quintet Every Time I Die (aka ETID) formed in 1998 and have been forging their own path ever since with ingeniously composed and furiously executed metal music.
The band's debut EP The Burial Plot Bidding War came out in 1999, with their first album Last Night In Town following two years later. Every Time I Die's 2003 sophomore album Hot Damn! brought them wider recognition and also led to an American tour supporting Jackass star Steve-O as well as a slot at Ozzfest in 2004.
The albums Gutter Phenomenon and The Big Dirty arrived in 2005 and 2007, respectively, while ETID's reputation for intense live shows continued to grow.
In 2009, they signed to Epitaph Records and released their fifth album New Junk Aesthetic. However it was 2012's Ex Lives produced by Joe Barresi (Queens Of The Stone Age, Tool, Parkway Drive) that became an undeniable success landing ETID the No.1 and No. 20 positions on Billboard's Top Hard Albums and Top 200 charts.
From Parts Unknown recorded in Salem, Massachusetts came out in 2014 and also peaked at No.22 on Billboard's Top 200 chart, garnering them a second straight top 25 album.
Over their first two decades, the line-up of Every Time I Die changed constantly. Since 2017, the five-piece has been comprised of its three original members – vocalist Keith Buckley with guitarists Jordan Buckley and Andy Williams – alongside bassist Steve Micciche and drummer Clayton Holyoak. They unveiled their eighth album Low Teens with producer Will Putney (Acacia Strain, Kublai Khan, The Ghost Inside) in autumn and it became ETID's most poignant and impassioned collection of songs. Low Teens debuted at No.1 and No.23 of Billboard's Top Hard Music and Top 200 charts. 
In addition, the notorious road warriors began their annual tradition of hosting a TID The Season hometown Christmas show at Buffalo Waterworks in 2017. Every Time I Die handpicked all the bands performing at the one-day winter festival and then headlined the bill.
In late 2020, they released the tracks A Colossal Wreck and Desperate Pleasures and confirmed their ninth studio album was in the works. Due to the coronavirus outbreak, the band had to cancel 2020's TID The Season, so they performed a livestream event called the TIDathon: Every Time I Die's Online Telethon Extravaganza.
In early 2021, ETID unveiled the new track AWOL and announced UK tour dates for January and February 2022.
Every Time I Die's 2022 UK tour dates
27 January 2022 – Chalk, Brighton
28 January 2022 – Rock City, Nottingham
29 January 2022 – O2 Ritz Manchester
30 January 2022 – Invisible Wind Factory, Liverpool
1 February 2022 – SWG3, Glasgow
2 February 2022 – Boiler Shop, Newcastle
3 February 2022 – Stylus, Leeds
4 February 2022 – SWX, Bristol
5 February 2022 – Roundhouse, London
News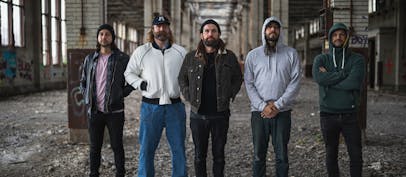 Every Time I Die announce 2022 UK tour
The Buffalo-based band are crossing the pond early next year to play shows across the UK with The Bronx, Jesus Piece and sanction. Tickets go on sale from 09:00 on Friday 16 April 2021.
FAQS
Every Time I Die are touring the UK from 27 January – 5 February 2022.

Every Time I Die will play concerts in the following UK cities in 2022:

Brighton
Nottingham
Manchester
Liverpool
Glasgow
Newcastle
Leeds
Bristol
London

Every Time I Die is coming to the UK in 2022 with The Bronx, Jesus Piece and sanction.

Tickets for Every Time I Die's 2022 UK tour dates go on sale from 09:00 on Friday 16 April 2021.