Alternative and Indie
Stereophonics
Events
Loaded 18 out of 18 events
About
Alt-rock's empathetic storytellers are set for 2021 winter tour and two huge shows in Wales plus a spring 2022 arena tour
In celebration of the 20th anniversary of their acclaimed album Just Enough Education To Perform, Stereophonics are doing a run of intimate UK dates in November and December 2021. They'll perform J.E.E.P. in its entirety along with brand new music from their forthcoming album Oochya! Stereophonics previously announced two huge shows at Cardiff's Principality Stadium in December as well as a nationwide arena tour in spring 2022. Pre-order the album Oochya! here
A trio of Welsh teenagers from the former mining village of Cwmaman started writing and performing music together at working men's clubs in 1992 as Tragic Love Company. Originally comprised of Kelly Jones and Richard Jones (who are not related) plus Stuart Cable, they had to change their name in order to get booked for a series of concerts in South Wales. Cable suggested Stereophonics, which was taken from the make of his grandmother's gramophone.
In 1996, they became the first band to be signed to V2, Richard Branson's new Virgin Records label. Stereophonics' debut track Looks Like Chaplin came out later that year and led to support slots on tours with fellow Welsh act Manic Street Preachers and Birmingham-based Ocean Colour Scene. Their album Word Gets Around arrived in 1997 and reached No.6 on the UK albums chart thanks to lead singles More Life In A Tramps Vest, Local Boy In The Photograph and A Thousand Trees.
Besides recording songs ripe with storytelling, the band's sound, which fell somewhere between Oasis-inspired Britpop and '70s-era rock, quickly resulted in a loyal following. Plus, Stereophonics took home a BRIT Award for Best New Band in early 1998 and played for over 10,000 fans at Cardiff Castle.
When the tracks The Bartender And The Thief and Just Looking came out shortly after, they reached No.3 and No.4, respectively, on the UK singles chart. Those were the lead songs from Stereophonics' sophomore album Performance And Cocktails, which topped the charts upon arrival in spring 1999 and went platinum within three weeks. By the end of the year, the band had played a stadium show in Swansea as well as collaborated with Welsh giant Tom Jones on a cover of Mama Told Me Not To Come for his Reload album.
Stereophonics' next four albums – 2001's Just Enough Education To Perform, 2003's You Gotta Go There To Come Back, 2005's Language. Sex. Violence. Other? and 2007's Pull The Pin – all peaked at No.1 in the UK, firmly securing the group's place as one of the nation's leading rock acts. In addition, they scored their first and only UK No.1 hit single with 2005's upbeat Dakota.
During these years, Stereophonics parted ways with Cable, temporarily replacing him with former Black Crowes drummer Steve Gorman before adding Argentinian Javier Weyler, who had been part of recording their demos, as a full-time member. Casino frontman Adam Zindani also joined the line-up after performing on stage with them at Radio 1's 2007 Big Weekend and then appearing on two of their live standalone tracks, You're My Star and My Own Worst Enemy.
The band released the greatest hits compilation Decade In The Sun in 2008, with their seventh album Keep Calm And Carry On following a year later.
In 2010, Stereophonics received a rapturous reception while playing a sold-out show titled Summer In The City as the inaugural concert at the newly built Cardiff City Stadium. However, tragic news came two days later with former band member Cable passing away at his home in South Wales from an accidental death due to drinking.
Stereophonics revealed that Weyler left the band in 2012 and former Noisettes drummer Jamie Morrison replaced him. Soon after, they unveiled Violins And Tambourines as the lead single for their 2013 album Graffiti On A Train. Kelly conceived the idea for it when he caught some children with spray paint running across his rooftop to get to the railway behind his house. Critically acclaimed, the record featured the hit single Indian Summer, went platinum and was nominated for World's Best Album at the 2014 World Music Awards.
Kelly had written so many songs for Graffiti On A Train that a second volume was planned and arrived as 2015's Keep The Village Alive. They supported it with the Keep The Summer Alive Tour that ran all the way through summer 2016.
After signing with Parlophone Records in 2017, Stereophonics released Scream Above The Sounds. Kelly started writing it while the band was on tour and he'd gotten delayed in Shanghai. While at a hotel, he watched the German crime thriller film Victoria by Sebastian Schipper, and was intrigued by the concept of two people meeting and their lives completely changing during the course of one night.
Stereophonics' 11th album Kind was recorded over an 11-day period and released in 2019. It became Stereophonics' seventh album to top the UK charts. Kelly revealed the lead track Fly Like An Eagle and video were inspired by his eldest daughter's coming out.
That summer Kelly embarked on a solo UK tour playing re-imagined, stripped-back versions of Stereophonics' classics and solo pieces. During the shows, he explained the stories behind the songs that have meant so much to him. Those performances were recorded and at the end of 2020, Kelly released a documentary called Don't Let The Devil Take Another Day along with a 21-track solo album by the same name.
In September 2021, Stereophonics unveiled the optimistic yet defiant single Hanging On Your Hinges and confirmed their 12th album Oochya! would arrive on 4 March 2022.
"The album title [Oochya!] was always a saying me and the band used in the studio to mean 'let's have it', a blast of energy and optimism and that's what we wanted to get across with Hinges," said Kelly about the new album and song, which also draw on his love of garage rock.
What's more, the Welsh rockers announced two huge end-of-year shows titled We'll Keep A Welcome at Cardiff's Principality Stadium on 17 – 18 December 2021 with special guests Tom Jones and Catfish And The Bottlemen as well as an 11-date UK arena tour for March and April 2022.
News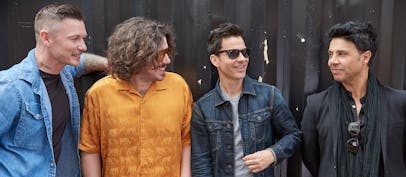 Stereophonics announce new album + tour dates
The Welsh rockers are releasing their 12th album Oochya! and embarking on a UK arena tour in March 2022, plus ending this year with two shows at Cardiff's Principality Stadium on 17 – 18 December 2021.
FAQS
Stereophonics have announced a run of special intimate UK dates from 26 November – 6 December 2021 to celebrate the 20th anniversary of their multi-platinum album Just Enough Education To Perform. They will also play two huge shows in Wales on 17 – 18 December 2021, with the release of their 12th album Oochya! seeing them return to the road for a UK arena tour from 18 March – 2 April 2022.

Stereophonics will appear at the following UK cities in late 2021:

Leicester
Llandudno
Portsmouth
Dundee
Edinburgh
London
Cardiff (for two huge shows)

In addition, Stereophonics will be visiting these cities on their 2022 arena tour:

Manchester
Aberdeen
Glasgow
Leeds
Newcastle
Brighton
Bournemouth
Liverpool
Nottingham
London
Birmingham

Stereophonics are headlining Cardiff's Principality Stadium with special guests Tom Jones and Catfish And The Bottlemen.

Tickets for Stereophonics' 20th anniversary J.E.E.P. tour go on sale from 09:00 on Friday 29 October 2021. Tickets for their 2021 Cardiff stadium shows and 2022 UK arena tour dates are on sale now.