Alternative and Indie
Foo Fighters
About
Gregarious post-grunge rockers fronted by Dave Grohl
Get the album Medicine At Midnight here
As a musician, singer-songwriter, producer, director and documentary filmmaker, Ohio-born Dave Grohl is a man of many talents. He rose to fame as the seventh and longest-running drummer of grunge idols Nirvana, having performed with the band from 1990 until frontman Kurt Cobain's death by suicide in 1994.
Afterward Grohl sank into a deep depression. Unsure of what to do next, he started making music on his own. He even recorded a demo at Seattle's Robert Lang Studios, playing all the instruments himself and working with producer Barrett Jones (Nirvana, Pearl Jam, Melvins). Grohl credited the project to "Foo Fighters", a term coined by the US Air Force during World War II to explain strange phenomena in the sky, because he'd been reading lots of books on UFOs. Mainly, he wanted the demo to sound like it came from a group instead of just one guy.
Grohl did return to drums again, recording the soundtrack for the film Backbeat that chronicles the early days of The Beatles and also playing with other bands including an incendiary performance with Tom Petty And The Heartbreakers on Saturday Night Live. He later turned down an offer to join them permanently, instead deciding to transform his Foo Fighters solo project – which had immediately generated label interest – into a full-blown band.
Taking on the role of lead vocalist and rhythm guitarist as well as chief songwriter, Grohl recruited bassist Nate Mendel and drummer William Goldsmith, both from emo pioneers Sunny Day Real Estate, as well as Germs founding member and Nirvana touring guitarist Pat Smear. The quartet hit the road in spring of 1995 for their first tour.
Buoyed by the success of the lead single This Is A Call, the Foo Fighters' eponymous debut album came out early that summer on Capitol Records via Grohl's own Roswell Records imprint and spawned three more singles: Big Me, I'll Stick Around and For All The Cows.
A huge success, the band spent the rest of the year on tour promoting it, including a trip overseas to make their first UK appearance at Reading Festival.
In mid-1996, Foo Fighters headed into the studio to start work on their second album and their first as a real-life band. It turned out to be a trying time with Goldsmith ultimately walking out, later to be replaced by Alanis Morissette's touring drummer Taylor Hawkins. Grohl's personal life was also in turmoil, with his first marriage to photographer Jennifer Youngblood ending. This anger and confused emotional core seeped into 1997's The Colour And The Shape, a more lyrically introspective record than the Foos' debut. Certified platinum in the US and several other countries, the album went on to win numerous awards as well as generating four UK Top 25 singles: Monkey Wrench, My Hero, Everlong and Walking After You.
The Foo Fighters' line-up went through more changes with Smear leaving in late 1997. Franz Stahl, a former bandmate of Grohl's from Scream, came on board. Although he toured with Foo Fighters and helped record a couple of songs for film soundtracks, he too departed in 1999.
This left the trio of Grohl, Mendel and Hawkins to hash out Foo Fighters' third album, 1999's There Is Nothing Left To Lose. A more melodic collection of songs featuring the hit Learn To Fly, it led to the band's first Grammy Award for Best Rock Album and firmly established Foo Fighters as one of the hottest alt rock acts of the decade.
The '00s proved to be another stellar decade for the band. Chris Shiflett – of the punk groups No Use For A Name and Me First And The Gimme Gimmes – joined as lead guitarist, and the Foo Fighters really gelled as a four-piece while experimenting with a whole new array of sounds and styles.
Two of their next three albums – 2002's One By One and 2007's Echoes, Silence, Patience & Grace ­– won Grammy Awards for Best Rock Album. In between those, Foo Fighters also released the double album In Your Honour in 2005. The first disc saw the band at their anthemic, hard-rocking best on songs including Best Of You, while the second disc boasted mellower acoustic numbers such as Friend Of A Friend, a solo performance by Grohl of a track he wrote in 1990 about his experiences joining Nirvana. 
The Foo Fighters' seventh album, 2011's Wasting Light, not only brought guitarist Smear back into the fold, but also yielded yet another Grammy. In a bid to recapture the grittiness of their early work, it had been recorded in the Grohl's garage in Encino, California using analogue equipment. Preceding the album's release, Foo Fighters unveiled the rockumentary Back And Forth, which chronicled the ups and downs of the band's history.
Following nearly two years of festival performances and extensive touring, Grohl planned to take a much-needed break. What's more, he had just added filmmaker credits to his resume in early 2013 after debuting Sound City – a documentary paying homage to the venerable San Fernando Valley recording studio by the same name – along with its accompanying soundtrack Sound City: Real To Reel at Sundance Film Festival.
However, a month later while collecting Foo Fighters' third BRIT Award for Best International Group, Grohl changed his mind. The very next day, he'd teamed up longtime contributor and touring keyboardist Rami Jaffee and producer Butch Vig (The Smashing Pumpkins, Sonic Youth, Nirvana's Nevermind) to record a new album.
Sonic Highways arrived in 2014, with every song recorded in a different American city. To complement the album and commemorate the Foos' 20th anniversary, Grohl directed an eight-part TV series, filmed in each of those cities, to capture the experiences and local scenes that inspired the sound and lyrics.
While touring the world in 2015 to support Sonic Highways, Grohl fell off stage in Gothenburg, Sweden and broke his leg – somehow managing to finish the concert in a seated position. After a dream induced by his pain medication, Grohl self-designed a guitar-themed throne so he could sit comfortably while shredding on stage, which allowed Foo Fighters to complete their tour as well as record the five-song Saint Cecilia EP in Austin, Texas. Conceived as a gift of gratitude for their fans, the free-to-download EP was also dedicated to the victims of that November's terrorist attacks in Paris.
Returning to a simpler way of doing things, Foo Fighters merged hard rock with pop sensibilities on their 2017 album Concrete And Gold, which featured a couple of unlikely collaborations in Justin Timberlake on Make It Right and Boyz II Men's Shawn Stockman on the title track.
Foo Fighters notched up a fifth BRIT Award for Best International Group in 2018. Before collecting the prize, Grohl, Hawkins, Mendel, Shiflett, Smear and Jaffee made their debut performance at the ceremony, playing The Sky Is A Neighbourhood on the roof of a makeshift house constructed in The O2.
While returning to the studio in 2019 to start recording another album, Foo Fighters also began releasing a series of EPs containing elusive live tracks under the umbrella name Foo Files.
The band had elaborate plans to celebrate their 25th anniversary in 2020 by revisiting the same stops from their very first US tour in a Dodge van. Billed as The Van Tour, those shows had to be cancelled due to the coronavirus pandemic.
That November, the Foo Fighters revealed the lead single Shame Shame from their 10th album, Medicine At Midnight, which arrived in early 2021 and featured the tracks No Son Of Mine and Waiting On A War. In April, Grohl premiered his latest film project, a documentary called What Drives Us, in which he interviewed 200 rock stars about their early days on the road living out of vans.
In June 2021, the Foo Fighters played a concert at Madison Square Garden that was the first full-capacity arena show in New York City since the start of the pandemic. The following month, as part of US Record Store Day, they released the disco-themed Hail Satin album under the Dee Gees moniker (a combined pun on both the brothers Gibb and Grohl's initials) that included four Bee Gees covers plus other live tracks. On their ensuing dates, the band trolled a protest by the Wellsboro Baptist Church by playing You Should Be Dancing from the back of a truck.
In August 2021, the Foo Fighters announced their return to the UK with a tour consisting of four huge stadium shows set in June and July 2022. About the Foos' UK shows, Grohl said, "We can't f***ing wait to get back to the UK. It's been far too long. Get ready to make up for lost time with some long-ass nights of rock & roll."
Grohl's memoir The Storyteller, penned during lockdown, came out in October 2021 and celebrates music as well as offers a collection of life stories from the revered rocker.
Foo Fighters 2022 UK tour dates
25 June 2022 – Emirates Old Trafford, Manchester (with St. Vincent & Loose Articles)
27 June 2022 – Villa Park, Birmingham (with Courtney Barnett & Hot Milk)
30 June 2022 – London Stadium (with St. Vincent & Shame)
2 July 2022 – London Stadium (with Courtney Barnett & Hot Milk)
News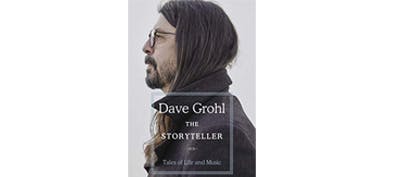 Dave Grohl's memoir The Storyteller is out now
The Foo Fighters frontman has released a new book chronicling tales of life and music. From childhood and teenage adventures to stories about his time in Scream, Nirvana and Foo Fighters, he covers his life's wildest and most heartfelt moments.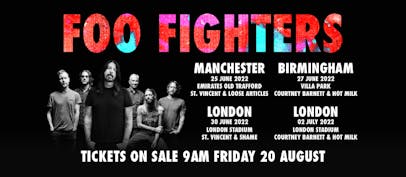 Foo Fighters announce 2022 UK tour
The Foos return to the UK next June and July for a huge stadium tour with stops in Manchester, Birmingham and London. Tickets go on sale from 09:00 on Friday 20 August 2021. Platinum tickets and hotel packages will also be available.
FAQS
Four Fighters are playing four UK stadium shows from 25 June – 2 July 2022.

Foo Fighters will be visiting the following UK cities on their 2022 stadium tour:

Manchester
Birmingham
London (for two shows)

Support acts for the Foo Fighters have been confirmed as St. Vincent, Loose Articles, Courtney Barnett, Hot Milk and Shame at various shows on their 2022 UK tour. Find more details about when these support acts are appearing below:

25 June 2022 – St. Vincent & Loose Articles at Emirates Old Trafford, Manchester
27 June 2022 – Courtney Barnett & Hot Milk at Villa Park, Birmingham
30 June 2022 – St. Vincent & Shame at London Stadium
2 July 2022 – Courtney Barnett & Hot Milk at London Stadium

Tickets for Foo Fighters' 2022 tour dates go on sale from 09:00 on Friday 20 August 2021. Platinum tickets and hotel packages will also be available.