Events
We're sorry, but we couldn't find any events
About
The rousing Scottish pop-rock quartet
Wet Wet Wet came together in Glasgow in 1982 and have since gone on to sell over 15 million albums and singles that spent more than 500 weeks on the UK charts. 
After befriending each other as teenagers at Clydebank High School, they scraped together enough money to buy equipment and formed a band playing punk covers. Originally called Vortex Motion, the members included frontman Mark McLachlan (later changed to Marti Pellow) with Neil Mitchell on keyboards, Tommy Cunningham on drums, Graeme Clark on bass and Lindsey McCauley on guitar, who would be replaced by Graeme Duffin in 1983. The following year the four-piece started writing their own songs and adopted the name Wet Wet Wet from a line in Scritti Politti's song Gettin' Havin' & Holdin'.
Their debut single Wishing I Was Lucky arrived in 1987 and saw them break into the UK singles chart at No.6. The album Popped In Souled Out trailed shortly after and reached No.2 on the UK albums chart as well as spawned the hits Sweet Little Mystery, Angel Eyes (Home and Away) and Temptation.
In 1988, Wet Wet Wet finally scored their first No.1 with a cover of The Beatles' With A Little Help From My Friends. Over the next five years they released four albums: The Memphis Sessions in 1988, Holding Back The River in 1989, High On The Happy Side in 1992 and Cloak & Dagger in 1992.
One of the bestselling songs of all time, Love Is All Around, came out in 1994. It spent 15 weeks in the No.1 spot, the longest spell at the top of the chart for any UK artist. Not only was the tune featured on the soundtrack Four Weddings And A Funeral, but it was also the closing track on Wet Wet Wet's 1995 album Picture This.
In 1997, the band released the album 10 and then split for the first time, reforming in 2004. Only one new album was recorded, Timeless, in 2007 and a greatest hits album was released in 2013. The quartet split for a second time in 2017, with Pellow deciding to leave in order to concentrate on his solo work.
Wet Wet Wet introduced Lancashire-born former Liberty X member and 2016 winner of The Voice Kevin Simm as their new lead singer in 2018. 
Throughout their career, the Scottish pop-rockers performed on BBC's Top Of The Pops 56 times and became renowned for their energetic live performances. In 2019, the four-piece went out on a huge spring UK tour to play their hits, followed by an additional six-date Scottish tour that autumn.
In late 2020, Wet Wet Wet confirmed they were working on a new album called The Journey and revealed details for a 20-city UK theatre tour by the same name for that autumn, kicking off in their beloved homeland of Scotland.
In March 2021, Wet Wet Wet announced a special Journey Out Of Lockdown livestream performance on 17 April 2021 in association with Nordoff Robbins Music Therapy.
News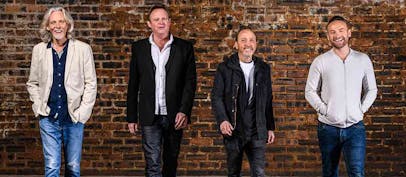 Wet Wet Wet announce livestream performance
The band are doing an exclusive one-hour online show on Saturday 17 April 2021 in support of Nordoff Robbins Music Therapy.
FAQS
Wet Wet Wet are performing an exclusive online show in association with Nordoff Robins on 17 April. Filmed in Glasgow and called Journey Out Of Lockdown, the full band set will include fan favourites such as Temptation, Goodnight Girl, Julia Says, Angel Eyes, Love Is All Around and more.

Wet Wet Wet have announced a UK tour from 28 October – 21 November 2021 in support of new album The Journey.

Wet Wet Wet are stopping in the following UK cities on their autumn 2021 tour:

Perth
Aberdeen
Edinburgh
Nottingham
Halifax
Buxton
Bury St Edmunds
Eastbourne
Hastings
Guildford
Portsmouth
Cheltenham
Margate
Stevenage
Poole
Crawley
Weymouth
Birmingham
Scunthorpe
Newcastle

Tickets for Wet Wet Wet's tour dates and livestream performance are on sale now.