Hard Rock/Metal
Dream Theater
About
Boston-based progressive metal pioneers
Get the album A View From The Top Of The World here
Dream Theater took root in the mid-'80s. Initially called Majesty, the band was formed by three Berklee College of Music students – guitarist John Petrucci, bassist John Myung and drummer Mike Portnoy, with keyboardist Kevin Moore joining soon after.
Following the release of an eight-track demo in 1987, they became Dream Theater in honour of a now-demolished cinema in Monterrey, California. Their debut album When Dream And Day Unite arrived in 1989.
In those early years, the line-up changed as the band searched for the right vocalist. By 1991, they found him in Canadian James LaBrie, formerly of Winter Rose.
When Dream Theater's sophomore album Images & Words came out in 1992 it garnered gold certification and won them critical acclaim as well as a worldwide fan base. Its lead single Pull Me Under received a lot of airplay on MTV and became the band's only top 10 hit.
Over the next 25 years, Dream Theater released 12 more albums with highlights including 1994's Awake being ranked as one of the top 10 releases of the year by Guitar World magazine, 1996's A Change Of Seasons soundtracking the US coverage of downhill skiing at the 2002 Winter Olympics and 2009's Black Clouds & Silver Linings debuting at No.6 on the Billboard Top 200 list.
The group had also launched their Progressive Nation tour with Opeth and Between The Buried And Me in 2008 to showcase more of the progressive, rock-oriented side of metal. In addition to North America, they took the tour over to Europe in 2009.
Dream Theater were inducted into the Long Island Music Hall of Fame in 2010. Their current line-up comprises Petrucci, Myung and LaBrie along with drummer Mike Mangini and keyboardist Jordan Rudess.
In 2019, the band continued to push the boundaries of progressive metal with a heavier sound on their highly praised album Distance Over Time featuring lead singles Untethered Angel and Fall Into The Light.
At the end of August 2021, Dream Theater announced their 15th record A View From The Top Of The World would come out on 22 October 2021 and be supported by a huge tour including three UK dates in April 2022.
News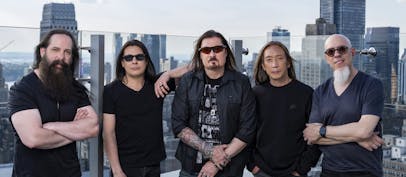 Dream Theater announce 2022 tour dates
The two-time Grammy-nominated metallers are supporting their 15th album, A View From The Top Of The World, with a UK tour from 20 – 23 April 2022. Tickets go on sale from 10:00 on Friday 3 September 2021.
FAQS
Dream Theater are touring the UK from 20 – 23 April 2022 in support of their new album A View From The Top Of The World.

Dream Theater will be visiting the following venues on their 2022 tour:

The SSE Arena, Belfast
Utilita Arena, Newcastle
The SSE Arena, Wembley, London

Tickets for Dream Theater's 2022 tour dates go on sale from 10:00 on Friday 3 September 2021.