Events
Loaded 20 out of 37 events
About
The soulful Mick Hucknall-fronted outfit
Born in Manchester, Mick Hucknall began his music career in the late '70s by joining a punk band called The Frantic Elevators. The quartet broke up in 1984, with their last single Holding Back The Years garnering critical acclaim.
In 1985, Hucknall began to assemble local musicians and soon after formed Simply Red, a six-piece named for his red hair and love of Manchester United. The group was immediately signed by Elektra Records and released a few low-charting singles as well as their debut album Picture Book, which contained a new version of The Frantic Elevators' Holding Back The Years. When that song was re-released in 1986 it became a major hit, peaking at No.2 in the UK and No.1 in the US and Ireland. Picture Book also received a BRIT nomination that year for Best British Album.
Inspired by artists like Aretha Franklin and The Clash, Simply Red went on to score a string of hit singles in the late '80s and '90s, with their unique blend of soul, pop, reggae and New Romantic music. They released six albums, with 1991's Stars – on which Hucknall wrote all the songs – going on to win an Ivor Novello award for Best Songwriter of the Year and a BRIT Award for Best British Band.
Among Simply Red's biggest hits from this time period were For Your Babies, If You Don't Know Me By Now, The Right Thing, Ev'ry Time We Say Goodbye, It's Only Love and Something Got Me Started as well as the title track Stars and their only No.1-charting single, 1995's Fairground.
Simply Red's first album of the new millennium was 2003's Home put out on Hucknall's newly launched record label Simplyred.com. Its singles included Sunrise, Fake and a cover of Thom Bell and Linda Creed's You Make Me Feel Brand New that peaked at No.7 on the UK singles chart.
Over the years, Simply Red's line-up went through numerous changes with Hucknall and long-serving saxophonist Ian Kirkham remaining the only constant figures. Since 2003, however, much of the line-up has remained consistent, rounded out by Kenji Suzuki on guitar, Dave Clayton on keyboards, Steve Lewinson on bass, Roman Roth on drums and Kevin Robinson on trumpet.
Two more albums followed in the noughties – 2005's Simplified and 2007's Stay featuring its No.7-charting title track – with the compilation Simply Red: 25 The Greatest Hits arriving in 2008.
Although the band split in 2010, Hucknall reformed Simply Red again in 2015, signed with East West Records and released the album Big Love. They also embarked on a 30th anniversary tour.
Simply Red unveiled their 12th album, Blue Eyed Soul, in 2019. Recorded at Mark Knopfler's British Grove studios in London, the raw, brassy collection of songs boasted hits like the funk-fuelled Thinking Of You and the sensual ballad Tonight. To support the album, Simply Red announced a UK tour that was rescheduled to February 2022.
In October 2021, the band also released Simply Red Remixed Vol. 1 (1985-2000) featuring remixed versions of classic tracks.
News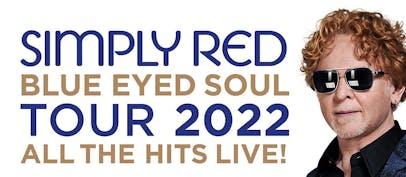 Simply Red reschedules dates
The group have announced that they're moving their autumn Blue Eyed Soul Tour to early 2022. Original tickets remain valid for rescheduled dates.
FAQS
Simply Red are taking their Blue Eyed Soul Tour across the UK from 4 – 24 February 2022.

Simply Red will be visiting the following UK cities in 2022:

Hull (for two shows)
Manchester
Newcastle
Leeds
Glasgow
Liverpool
Birmingham
Bournemouth (for two shows)
Nottingham
London (for two shows)
Brighton (for two shows)
Cardiff

Tickets for Simply Red's 2022 tour dates are on sale now. Original tickets remain valid for rescheduled dates.