Alternative and Indie
New Order
About
Alternative pop band adept at blending guitars with dance beats
Out of the ashes of Joy Division came New Order. When the former came to a tragic and premature end with Ian Curtis's death in 1980, his remaining bandmates – Bernard Sumner, Peter Hook and Stephen Morris – regrouped to find a way to carry on without their enigmatic frontman. Sumner took over as vocalist, Gillian Gilbert join on keys and the result was more successful than any of them could have imagined, delivering the biggest-selling 12" single of all time and becoming a cornerstone of Manchester's wildly influential Haçienda scene.
Naturally, it took New Order a few attempts to move out of the considerable shadow of their previous incarnation. Their first single Ceremony was a holdover from their former era, and their 1981 debut album Movement didn't stray too far from the angular post punk that was Joy Division's stock and trade.
However, New Order quickly began to establish their own identity, especially with their increasing adoption of synthesizers and sounds inspired by underground club culture. The result was the singles Everything's Gone Green and Temptation, both proving popular in the clubs that had inspired their creation.
After a brief break, the band returned in 1983 with the pulsating single Blue Monday. It would go on to sell over 3 million copies and become the biggest 12" single ever. New Order capitalised on this success with the album Power, Corruption And Lies, which was greeted with an equally ecstatic reception.
Singles such as Confusion, The Perfect Kiss and Bizarre Love Triangle and the superb 1985 album Low-Life saw their fanbase continue to grow exponentially, even if the 1986 album Brotherhood – with its sides split between dance and guitar-driven tracks – proved a headtrip too far for some fans.
Substance gathered the band's singles together into one collection in 1987, including the new track True Faith, which helped make further inroads in the US. New Order set up in Ibiza for their next album, Technique, not realising it was the centre of the burgeoning house music scene. The sounds of the island pervaded the album, blending seamlessly with the band's unique brand of alternative pop and dance music.
The '90s found the band collaborating with the English football team for World In Motion, the team's official anthem for their run to the semis of Italia 90. Around this time, Sumner also teamed up with Johnny Marr of The Smiths and Neil Tennant of Pet Shop Boys in the band Electronic. Returning in 1993, New Order pulled back slightly from the dance influences and created Republic, an album that revelled in hooky guitar pop, particularly the triumphant single Regret. 
New Order dispersed for the remainder of the decade, Sumner returning to Electronic while Hook founded the band Monaco. New material surfaced in 2000 in the shape of Brutal from the soundtrack to the film The Beach. A new album Get Ready arrived in 2001 – albeit without Gillian Gilbert, who had left to focus on caring for her children with Stephen Morris – followed by Waiting For The Sirens' Call in 2005. Soon after, the band announced they were splitting up.
After a two-year break, New Order reformed for live dates with Gilbert back in the fold but without Peter Hook. The band played the closing ceremony of the London 2012 Olympics alongside Blur and The Specials and rounded out the year with the release of Lost Sirens, a collection of unreleased songs from the sessions for Waiting For The Sirens' Call.
In 2015, they released their first album of new material in a decade. Music Complete found New Order back in electronic, dance-orientated mode.  
In 2020, New Order announced a UK date in the shape of a huge homecoming show in Heaton Park for September 2021, with support from Hot Chip and Working Men's Club.
News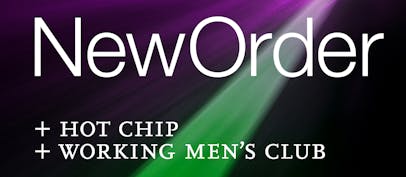 New Order announce Heaton Park show
Manchester giants New Order have announced a huge homecoming show for 10 September 2021 at Heaton Park. Support comes from Hot Chip and Working Men's Club. Tickets on sale from 09:00 on 10 December 2020.
FAQS
New Order will play Heaton Park on 10 September 2021 and The O2 on 6 November 2021.

Hot Chip and Working Men's Club will support New Order at their Heaton Park show.

New Order tickets go on sale at 09:00 on 10 December 2020.