Events
International Events
2 Events
Experience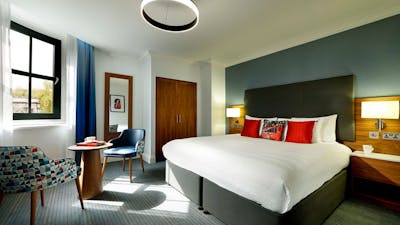 4* Hard Rock London Hotel + Ticket Package
Enjoy a one-night stay (with breakfast included) at the 4* Hard Rock London hotel on the night of the show. Guests also receive 10% discount in the world-famous Rock Shop. (Must be purchased in pairs, 2 tickets with one room, packages provided by Sound Travel).
Located in central London and steps away from Marble Arch underground station the hotel is within easy reach to White Hart Lane using London's transport links.
The Hard Rock Hotel stands alone as a haven for music lovers making it the perfect place to stay paired with a concert built in one of London's most central locations a stone's throw from Hyde Park, the famous oxford street and the very best that England's Capital has to offer.
A hearty breakfast is included with all bookings
Guests can kick back giving them the impression of being in Vegas in The Hard Rock Restaurant offering a great selection of cocktails a delicious food menu to cater to everyone's taste buds with live music continued through the night.
An exclusive 10% discount in the Rock Shop is being offered to all guests
Find Tickets
4* DoubleTree lslington Hotel + Ticket Package
Enjoy a one-night stay with breakfast included at the 4* DoubleTree by Hilton London Islington (Soon to be renamed DoubleTree by Hilton Angel Kings Cross) on the night of the show. Guests also receive 10% discount on food and beverage purchased within the hotel. (Must be purchased in pairs, 2 tickets with one room, packages provided by Sound Travel)
Located within easy reach to White Hart Lane using London's Underground and train service from Angel Station via Kings Cross and Turnpike station to White Hart Lane Grt Cambridge Road.
The hotel is perfectly located a 15-minute walk to Kings Cross Station and only 2 minutes-walk to Angel Station making it a great spot for guests to go off exploring the nearby restaurants, shops and major attractions London has to offer.
A hearty breakfast is included with all bookings, guests also receive a warm chocolate cookie upon arrival and 10% discount on food and beverage purchased during their stay.
Guests can enjoy The Marco Pierre White Steakhouse Bar and Grill offering gourmet British cuisine and succulent steaks and triple cooked chips.
Guests can relax in The Bar60 where the bar team specialise in making the perfect gin and tonic with a wide range of gins to choose from, spirits, wines and soft drinks along with the bar food menu.
Find Tickets
About
Rock giants fronted by the ever controversial Axl Rose
Towards the middle of the 1980s, the hard rock scene in LA had reached a point of self-parody. Into this mix of celebrated excess and shallow preening came Guns N' Roses, a band that emblemised the darkest, dirtiest corners of LA – combining the searing bluesy swagger of the Rolling Stones with an aggression and attitude that was equal parts metal and punk.
GNR's initial line-up was all MVPs. Axl Rose possessed a glass-shattering, piercing wail, while perpetuating his hedonistic reputation at every opportunity. Duff McKagan, with his low-slung bass and bleached blonde hair, looked as if he'd wandered in from a Germs gig. Drummer Steven Adler brought the bombast, while Izzy Stradlin and Slash wielded guitars like they were offensive weapons, trading solos and riffs like the Stones on nitro.
When their debut album Appetite For Destruction arrived in 19876, it issued a "lock up your children" warning to the world. Everything about GNR was controversy, from the far-too-convincing nods to misogyny and substance abuse, to the band's on- and off-stage antics. This was a band that was exactly as dangerous as they claimed to be. Still, songs like Sweet Child O' Mine proved that they were much more than that, too. Combined with charging rockers like Welcome To The Jungle, Paradise City and Nightrain, by 1988 it had turned GNR into one of the biggest rock bands on the planet.
Eager to capitalise on their success, the band quickly returned with Lies, a combination of an EP released pre-Appetite and four new, mostly acoustic songs. Of the latter, the tender ballad Patience was the biggest hit, but the homophobia and xenophobia showcased on other songs would gain more attention.
The band returned to the studio in 1990 to begin work on their proper follow-up to Appetite For Destruction, albeit without Steven Adler, who had been fired over claims that his drug addiction made his playing unreliable. He was replaced by The Cult's drummer Matt Sorum. The recording sessions snowballed, eventually becoming the ambitious double album set, Use Your Illusion. The two albums featured mini-epics, piano balladry and soul searching in a manner that seemed wholly out of character for the previously down and dirty rockers. Don't Cry, November Rain and the band's covers of Knocking On Heaven's Door and Live And Let Die all became hits.
However, the immediate aftermath saw the rock world changing dramatically, especially with the advent of grunge. Nirvana's angry, self-loathing Nevermind and Pearl Jam's earnest Ten made the Use Your Illusion albums look incredibly bloated by comparison. Stradlin left the band, replaced by Gilby Clarke, and Guns N' Roses abruptly changed tack, recording an album of punk covers called The Spaghetti Incident?. GNR being GNR, they courted controversy by including a Charles Manson cover as a hidden track.
Creative differences ensued and the band went into an unofficial hiatus, while Slash went out on his own with Slash's Snakepit. Rose remained an elusive presence and Guns N' Roses' only release was a cover of Sympathy For The Devil, recorded for the soundtrack to Interview With The Vampire. In 1996, Slash officially left the band, leaving Axl to continue to record in private with an army of session musicians and hired guns from other bands.
Guns N' Roses first public appearances in almost seven years introduced a completely new line-up. Alongside Axl – the only original member – were Robin Finck (Nine Inch Nails), Buckethead and Axl's friend Paul Huge on guitar, Tommy Stinson (The Replacements) on bass, Brian Mantia (Primus) on drums and Dizzy Reed on keys. A tour ensued in 2002. Sorum, Slash and McKagan had meanwhile joined up with Scott Weiland (Stone Temple Pilots) to form Velvet Revolver.
Rumours of a new Guns N' Roses album had circulated for so long that it had transcended to the level of myth. Rose had revealed the name Chinese Democracy, but after nearly 10 years of sessions and millions in production costs, the band had only a few leaked recordings to show for it.
The album was finally released in 2008, 15 years after work first began. The line-up remained in flux, but most of the original members reformed (albeit without Axl) for a Rock & Roll Hall Of Fame induction in 2012. Bridges were eventually mended, and Slash and McKagan rejoined permanently in 2016 for the knowingly titled Not In This Lifetime… tour.
The band had been set to play the new Tottenham Hotspur Stadium in London in May 2020, but the dates were rescheduled due to the Coronavirus pandemic. The band later confirmed that their London and Glasgow UK tour dates were being rescheduled to July 2022.
News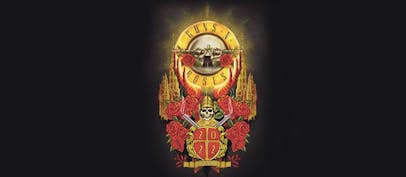 Guns N' Roses reschedule summer tour dates to 2022
The band will perform on 1 – 2 July 2022 at London's Tottenham Hotspur Stadium and 5 July 2022 at Glasgow Green. All tickets remain valid and will be honoured for new the dates.
FAQS
Guns N' Roses shows in London and Glasgow have been rescheduled to 1, 2 and 5 July 2022. All tickets remain valid. Please note that the Glasgow show has changed venue and will now take place at Glasgow Green.

GNR will tour the UK in 2022 with shows in London and Glasgow.

GNR have moved their Glasgow show from Belahouston Park and will now play Glasgow Green instead on 5 July. Tickets for the original date remain valid.

Tickets for Guns N' Roses 2022 tour dates are on sale now.