Alternative and Indie
Duran Duran
Events
International Events
1 Events
Loaded 17 out of 17 events
About
Era-defining new romantic superstars
New wave idols Duran Duran were one of the first bands to truly capitalise on the new frontier of MTV. With a run of high concept, high-end production videos to innately catchy singles, the band's rise to stardom was practically meteoric.
The band was formed at school in Birmingham in the late '70s by friends Nick Rhodes and John Taylor, brought together by a shared love of an eclectic range of influences, from post punk to Roxy Music. Their first frontman was Stephen Duffy, who would later go on to front cult Birmingham outfit The Hawks. After a series of line-up changes, Roger Taylor (no relation to John and not to be confused with the Queen drummer) joined on drums, Andy Taylor (also no relation to Roger or John) on guitar and Simon LeBon on vocals.
At the dawn of the '80s, Duran Duran had already secured a major label deal with EMI. Their first single Planet Earth peaked at No.12 on the UK singles chart, positioning the band at the head of the burgeoning new romantic movement. Their second single performed even better; Girls On Film was the band's first top ten hit, even though the BBC banned its highly sexed video.
All this, and Duran Duran hadn't even released an album yet. When their self-titled debut finally arrived in summer 1981, it went to No.3, staying in the UK album charts for a remarkable 118 weeks. The band weren't about to rest on their laurels, returning the following May with Rio, one of the defining albums of the decade. From transatlantic smash hit singles Rio and Hungry Like The Wolf to the band's defined style and model looks, Rio turned Duran Duran into a proper phenomenon.
The band dipped back into their debut album for their next single Is There Something I Should Know?, which became their first UK No.1 after entering the top ten in the US. Duran Duran continued their relentless assault on the charts with their third album at the end of 1983. Seven And The Ragged Tiger featured the hit singles The Reflex (the band's first transatlantic No.1).
Two more hits followed in the shape of non-album track Wild Boys in 1984 and A View To A Kill, the theme from the Bond film of the same name, in 1985. Following the latter, and with the group's popularity waning, Duran Duran went on hiatus. Andy and John Taylor joined Power Station, while the remaining three members formed their own group Arcadia. Soon afterwards, both Andy and Roger Taylor left the band. The remaining trio regrouped for Notorious in 1986 and Big Thing in 1988, both of which performed well.
Duran Duran staged a surprise resurgence in 1993 with Duran Duran [The Wedding Album], which featured new guitarist Warren Cuccurullo and the huge hit Ordinary World. John Taylor departed in 1996, leaving the band to record their next three albums as a trio.
In 2001, rumours started to circulate that the three Taylors, Nick Rhodes and Simon LeBon were planning a reunion of the band's classic early 80s line-up. That was confirmed in May, with the band touring and working on new material over the ensuing years. This material was released as Astronaut in 2004, followed in 2007 by Red Carpet Massacre, which was produced by Timbaland. In 2011, the band teamed up with renowned producer Mark Ronson for All You Need Is Now. Ronson was involved again, alongside Nile Rodgers, for 2015's Paper Gods, which also included guest appearances from Janelle Monáe and John Frusciante.
In 2019, Rhodes confirmed that the band was working on a new album with Ronson, Giorgio Moroder, Graham Coxon (Blur) and Lykke Li all involved. The album was later delayed due to the COVID-19 pandemic.
Duran Duran was scheduled to play British Summer Time 2021. The festival was postponed but the band was confirmed for the following year at BST 2022 in Hyde Park alongside Nile Rodgers + Chic.
News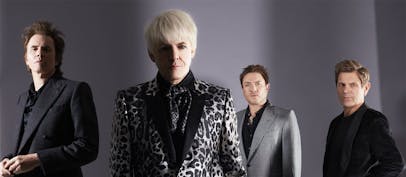 Duran Duran announce two Birmingham dates
The new wave idols will play two intimate shows at O2 Institute Birmingham on 14 and 15 September 2021. Tickets go on sale from 09:00 on Friday 27 August 2021.
FAQS
Duran Duran are doing two intimate live shows in Birmingham on 14 – 15 September 2021 before headlining Isle Of Wight Festival on 19 September 2021, plus the band are appearing at several summer festivals in June and July 2022.

Duran Duran are playing two nights at O2 Institute Birmingham as well as headlining Isle Of Wight in Newport in 2021.

In 2022, Duran Duran will appear at Lytham Festival in Lancashire, American Express presents BST Hyde Park at London's Hyde Park and Rock In Rio Lisboa at Lisbon's Parque da Bela Vista.

Tickets for Duran Duran's Birmingham tour dates go on sale from 09:00 on Friday 27 August 2021. Tickets for all of Duran Duran's other 2021 and 2022 tour and festival dates are on sale now. Original tickets remain valid for rescheduled dates.