Clubs and Dance
Nathan Dawe
Events
International Events
1 Events
Loaded 12 out of 12 events
About
The master of multi-genre mixes
Producer and DJ Nathan Dawe is from Burton upon Trent. He picked up his first decks at the age of nine and started DJing at birthday parties when he was only 11. By the time he turned 16, Dawe was already putting on his own events.
A year later he landed a residency at Bullet, a local nightclub – until they discovered he wasn't of legal age. So Dawe began to build a following by releasing mixes on Soundcloud. He amassed over 20 million unique plays, while reaching No.1 status in the iTunes Dance chart with his Pure Anthems compilation. 
With his an impressive portfolio, covering everything from house and hip hop to bassline, reggae and pop, he found himself DJing abroad and spending summer seasons in Zante. Within a few years, he had performed on every party island in Europe.
Dawe also began creating his own music in his mid 20s. In 2018, he released his debut single Cheatin', which entered the UK top 100 singles chart.
He followed that up with several more tracks in 2019 including Repeat After Me featuring Melissa Steel and Flowers with garage stalwarts Jaykae and Malika, which peaked at No.16 on the UK singles chart and became a platinum-selling dance anthem.
In 2020, Dawe racked up two more huge singles after releasing No Time For Tears with Little Mix and the No.3-charting hit Lighter featuring KSI.
On 26 February 2021, Dawe announced Way Too Long, his first ever headline UK tour for November and December 2021.
"I'm so happy we've been able to make this happen, especially after not being able to perform for the past year," said Dawe about the tour. "This will be the first time I've performed all my releases from 2020 and I just can't wait to see all the fans again."
News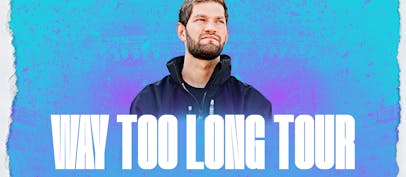 Nathan Dawe announces the Way Too Long tour
The multi-genre producer and DJ is set to play dates across the UK in November and December 2021.
FAQS
Nathan Dawe is touring the UK from 12 November – 19 December 2021.

Nathan Dawe's Way Too Long tour will stop in the following UK cities:

Manchester
Leeds
Newcastle
Liverpool
Cardiff
Glasgow
London
Birmingham

Tickets for Nathan Dawe's tour dates go on sale from 10:00 on Friday 5 March 2021.