About
The West Country family alt-folk trio
Get the album Wildwood Kin here
Comprised of two sisters and their cousin, Wildwood Kin have been singing together from a young age. Beth and Emillie Key along with Meghann Loney hail from Exeter and learned to harmonise from their mothers. Often compared to the sister act HAIM, they were inspired by artists like Simon & Garfunkel, Fleetwood Mac, Mumford & Sons, Fleet Foxes and Sigur Rós.
When they were in their late teens, they formed Wildwood Kin, a name that came from growing up near Dartmoor and being family. The trio quickly began honing their alternative folk/Anglo-Americana sound.
In 2015, Wildwood Kin self-released their debut EP Salt Of The Earth and were nominated for BBC Radio 2's Young Folk Award. They signed to Sony Music's relaunched Silvertone label in early 2017, and their extraordinary debut album Turning Tides soon followed, spawning the singles Run, Warrior Daughter and Steady My Heart. Praised for their atmospheric three-part harmonies, the album also landed the band slots playing a number of festivals that summer including Radio 2 Live In Hyde Park and Glastonbury.
Wildwood Kin's eponymous sophomore album arrived in 2019. It was mostly produced by Ian Grimble (Bear's Den, Travis), with the multi-faceted Ed Harcourt writing and producing the lead single Never Alone. Featuring symbolism-laden lyrics and covering themes like love, loss and spirituality, the album was well-received by critics for its honesty, uplifting presence and delicate melodies. The three-piece supported it with a winter UK and European tour.
In April 2021, Wildwood Kin announced their Move On Out UK tour for late summer 2021.
News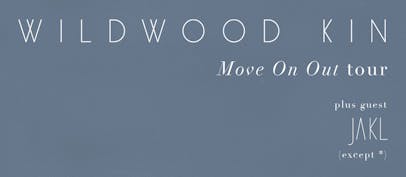 Wildwood Kin announce 2021 Move On Out tour
The West Country trio will play a series of late-summer dates across the UK from 31 August – 25 September 2021. Tickets go on sale from 10:00 on Monday 19 April 2021.
FAQS
Wildwood Kin are hitting the road with their Move On Out tour from 31 August – 25 September 2021 in support of their self-titled album.

Wildwood Kin will be playing concerts in the following UK cities in 2021:

London
Manchester
Newcastle
Leeds
Southampton
Brighton
Bristol
Exeter
Scunthorpe
Swindon

JAKL is providing support for Wildwood Kin's UK tour at all shows except at the Westview Live Folk Festival in Scunthorpe.

Tickets for Wildwood Kin's Move On Out tour dates go on sale from 10:00 on Monday 19 April 2021.