Rap and Hip-Hop
BROCKHAMPTON
Events
International Events
2 Events
Loaded 10 out of 10 events
About
The 13-strong hip hop collective
Get the album Roadrunner: New Light, New Machine here
Self-proclaimed as "America's favourite boyband" and "the best boyband since One Direction", BROCKHAMPTON was founded in Texas in 2010. Led by Kevin Abstract, who had posted a callout on the Kanye West online fan forum KanyeToThe, the group's members all come from diverse backgrounds, which helps shape their collaborative lyrics and high-octane rap-meets-R&B sound.
Throughout 2017, they rose to fame by releasing the Saturation trilogy of EPs. When their first major label album Iridescence came out in 2018, it debuted at No.1 on the Billboard 200 and R&B/Hip Hop charts. To support it, BROCKHAMPTON embarked on their worldwide I'll Be There Tour, which kicked off in New Zealand and wrapped up in Las Vegas.
Since late 2018, BROCKHAMPTON has been comprised of 13 members. Along with Abstract, the line-up includes Merlyn Wood, Joba, Matt Champion, Dom McLennon, Bearface, Romil Hemnani, Jabari Manwa, Kiko Merley, Henock "HK" Sileshi, Robert Ontenient, Jon Nunes and Ashlan Grey.
The following year brought Ginger, which featured fan-favorite songs like No Halo, If You Pray Right, I Been Born Again and Boy Bye. It also spawned Sugar, a ballad about adolescent heartbreak that peaked at No.66 on Billboard's Hot 100 list plus became their first song to get an official remix that featured Dua Lipa.
That summer BROCKHAMPTON played a standout set at Tyler, The Creator's 2019 Camp Flog Gnaw Carnival before launching their Heaven Belongs To You Tour across North America. 
In 2020, amid the coronavirus pandemic, they began uploading self-produced singles to their YouTube channel under the umbrella title Technical Difficulties.
BROCKHAMPTON came out with two new singles in early 2021 – Buzzcut and Count On Me – followed by the arrival of their sixth album, Roadrunner: New Light, New Machine, in early April. In addition, the band confirmed their headline UK dates would be rescheduled to January and February 2022, with a new show added in Sheffield.
News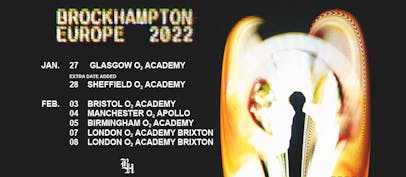 BROCKHAMPTON rescheduled tour + new show
The hip hop boyband from America have moved their tour to January and February 2022. They also announced an extra date at O2 Academy Sheffield on 28 January 2022 – tickets go on sale from 09:00 on Friday 16 April 2021.
FAQS
BROCKHAMPTON are touring the UK from 27 January – 8 February 2022.

BROCKHAMPTON will be visiting the following UK cities in 2022:

Glasgow
Sheffield (new date)
Bristol
Manchester
Birmingham
London (for two shows)

Tickets for BROCKHAMPTON's newly added Sheffield concert go on sale from 09:00 on Friday 16 April 2021. Tickets for the rest of BROCKHAMPTON's 2022 UK tour dates are on sale now. Original tickets remain valid for rescheduled dates.