About
Former Oasis frontman and hugely successful solo star
Few people define the '90s quite as succinctly as Liam Gallagher. As the frontman of Oasis, Gallagher was the voice behind some of the decades biggest hits, selling millions of records and leaving an indelible impression on the British musical and cultural landscape. At the same time, he also formed a personal brand out of perpetual sneering and exceedingly confrontational and controversial antics, including a turbulent relationship with his brother Noel, which inevitably led to the band's demise in 2009.
Popular opinion was that, as chief songwriter behind Oasis's biggest hits, it would be Noel who would go on to enjoy greater success, but Liam wasn't about to fade from the spotlight. He'd demonstrated a growing talent as songwriter on the band's later records and continued this with his first post-Oasis project Beady Eye, featuring backing from the remaining members of his former band.
When Beady Eye split in 2014 after two reasonably well-received records, Liam publicly dismissed the idea that he'd pursue a solo career. However, he changed his mind and, in 2016, released his first solo single Wall Of Glass, followed in 2017 by his debut solo album As You Were. The album debuted at No.1 in the UK charts, enjoyed considerable success in the US and was considered by many to be the finest from either brother post-Oasis.
Gallagher was an integral figure in the charity efforts that followed the Manchester Arena bombing in 2017, organising and appearing at a benefit at Old Trafford Cricket Ground. In 2019, he returned with a second solo album, Why Me? Why Not?
In 2020, Gallagher released an MTV Unplugged live album, recorded at Hull City Hall. That November, a Liam Gallagher livestream entitled Down By The River Thames was announced, due to be broadcast on 5 December. The livestream would see Liam and his band playing songs from his solo albums alongside Oasis classics on a barge as it travelled down the river.
News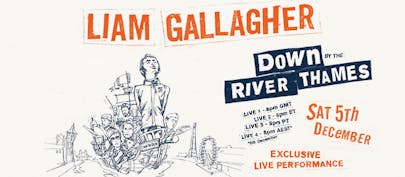 Liam Gallagher announces livestream
Don't miss Liam and band live from a barge on the River Thames. On sale 13 November at 09:00.
FAQS
Liam Gallagher has announced a livestream on 5 December 2020. Down By The River Thames will be broadcast online and features Liam and band playing his solo songs and Oasis classics on a barge.

You can watch Liam Gallagher's livestream Down By The River Thames exclusively via MelodyVR

Tickets for Down By The River Thames go on sale at 09:00 on 13 November 2020.