About
Comedian Alex Horne and his merry band
The Horne Section is a hilarious band that melds together stand-up and live music. It was conceived by comedian Alex Horne, who's best known as the creator and co-host of the BAFTA-winning TV show Taskmaster with Greg Davies. Horne had always admired the musicianship of his two childhood friends – drummer Ben Reynolds and trumpeter Joe Auckland – so he got the idea to combine improv with catchy tunes.
The Horne Section started performing together in 2010 and released a self-titled album featuring songs and segments like Journey To Happy, Advice For A Student, The Hair Suite and Friends Forever as well as some poetry and a conversation with Tim Key.
By early 2012, the line-up had solidified with Horne as bandleader, his two mates plus Will Collier on bass, Ed Sheldrake on piano and Mark Brown on saxophone. Later that year, they launched the BBC Radio 4 series Alex Horne Presents The Horne Section, which ran for three series.
In 2015, the band did a nine-minute festive carol-themed show called The Horne Section Christmas.
Over the years, they not only appeared live on stage in the West End and at the Edinburgh Festival Fringe, but also on various comedy panel shows, becoming favourite Dictionary Corner regulars on 8 Out Of 10 Cats Does Countdown and the first band to host Never Mind The Buzzcocks.
The Horne Section went on showcase their freewheeling jazz-meet-comedy hybrid format on a two-hour TV special at the London Palladium in 2018. In addition, they launched an eponymous chart-topping podcast and released three more albums: 2018's Three Great Songs And Eight More Songs and 2020's The Most Beautiful, Talented People In The Whole World and The Horne Section Christmas Family Album.
Also in 2020, Horne and his five-piece contributed jingles and parody songs for the eight-part BBC series Peter Crouch: Save Our Summer and began serving as the house band on The Last Leg, while in early 2021 they appeared on Crouchy's Year-Late Euros: Live.
Called "an absolute blast" by the Metro, The Horne Section announced a UK tour from September through December 2021.
News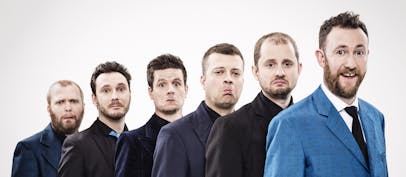 The Horne Section announce 2021 UK tour
In addition to their TV appearances and iTunes chart-topping podcast, Alex Horne and the five-piece band will be performing live across the country this autumn and winter. It's The Horne Section's one and only 2021 tour. Tickets on sale now.
FAQS
The Horne Section are touring the UK from 30 September – 21 December 2021.

The Horne Section will be visiting the following UK cities in 2021:

Guildford
Peterborough
Worthing
Buxton
Sheffield
Northampton
Richmond
Wycombe
Reading
Margate
London
Bexhill
Basingstoke
Dorking
Portsmouth
Bath

Tickets for The Horne Section's 2021 tour dates are on sale now.