More Arts, Theatre & Comedy
Andrea Bocelli
Events
International Events
2 Events
About
The Italian tenor who took classical music to the top of the pop charts
Andrea Angel Bocelli is one of the world's greatest singing talents. Best known for blending of opera and pop music, his rich and unique voice has been known to bring audiences to tears.
Born in a village in Tuscany, Bocelli started piano lessons when he was six years old and fell in love with music, later learning to play flute and saxophone. Diagnosed with glaucoma from a young age, he was blinded by a football accident when he was 12. Despite the setback, he continued in music and began to sing, winning his first competition at the age of 14 with a rendition of O Sole Mio.
When Bocelli went to the University of Pisa to study law, he sang in piano bars for extra money. After graduating he practiced law for about a year before leaving to study with tenor Franco Corelli.
In 1992, Bocelli was asked by Italian pop star Zucchero Fornaciari to record a demo of the song Miserere and the tape found its way to renowned tenor Luciano Pavarotti, who befriended him and invited him on tour.
Bocelli signed a recording contract in 1993 and released his debut album Il Mare Calmo Della Serra in 1994. That year he also sang for Pope John Paul II and has since performed for every head of the Catholic church on numerous occasions.
In 1995, he released Bocelli, featuring the single Con Te Partirò, which was also recorded as a duet in English (called Time To Say Goodbye) with Sarah Brightman; both versions became massive hits.
Bocelli's popularity continued to grow with the release of Romanza in 1997, which sold more than 15 million copies worldwide. In 1998, he took to the theatre stage at the Teatro Comunale in Cagliari, playing the role of Rodolfo in Puccini's La Bohème.
Between 2000 and 2016, Bocelli released nine studio albums, a trio of compilations and 14 complete opera recordings. Along with appearing before three popes, Bocelli has performed for four US presidents and many royal families, as well as at ceremonies for the Olympic Games and the World Cup. Among his countless awards, he received a star on the Hollywood Walk of Fame in 2010.
In 2017, Bocelli collaborated with Ed Sheeran on Perfect Symphony, in which the pair sang together in English and Italian. The following year he released the album Sì, which featured duets with Sheeran, Dua Lipa and Josh Groban, as well as the single Fall On Me, a collaboration with his son Matteo that also appeared on the soundtrack for the Disney movie The Nutcracker And The Four Realms.
Bocelli's Si Forever: The Diamond Edition arrived in 2019 containing two new duets with Ellie Goulding and Hollywood actress Jennifer Garner, and he toured arenas in the UK that autumn to support it.
His inspiring 17th studio album Believe celebrating the power of music along with a new video for Amazing Grace with Alison Kraus came out on 13 November 2020. In addition, Bocelli announced a global livestream concert titled Believe In Christmas from Italy's Teatro Regio di Parma opera house on 12 December 2020. Two shows at London's O2 arena were also confirmed for early October 2021.
News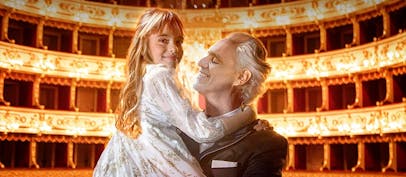 Bocelli announces global livestream concert on 12 Dec 2020
Tickets for Believe In Christmas from Italy's Teatro Regio di Parma go on sale at 09:00 Fri 20 Nov.
FAQS
Andrea Bocelli will play an exclusive livestream concert, Believe In Christmas, from the spectacular Teatro Regio di Parma opera house in Italy on 12 December. It will be time-zoned to specific regions for fans from around the world to watch.

Filmed in the round, this one-off, multi-camera event will feature Bocelli with other musicians and special guests. Plus, he has teamed up with creative director Franco Dragone – known for his ground-breaking work with Cirque du Soleil – to create a magical performance ushering in the festive season.

Andrea Bocelli is playing two big arena shows in the UK on 2 & 3 October 2021.

Andrea Bocelli will play two shows at The O2 in London in 2021.

Yes, there are Platinum and Gold VIP ticket experiences that include overnight stays.

Bocelli has a new show format for fans in 2021. He'll showcase his best-loved operas during the first part of the night, while the second part will feature his most popular hits.

Tickets for Andrea Bocelli's global livestream event Believe In Christmas go on sale at 09:00 on Friday 20 November 2020. Tickets for his 2021 UK tour dates are on sale now.