Hard Rock/Metal
An Evening With Bruce Dickinson
About
Charismatic, multi-talented frontman of British metal titans Iron Maiden
Bruce Dickinson is best known as the frontman of long-running British heavy metal titans Iron Maiden. Dickinson started off with another metal outfit, Samson, recording two albums with them in the early '80s. Shortly after Maiden parted ways with their first frontman Paul Di'Anno, they joined up with Dickinson, debuting their new singer on the 1982 album, The Number Of The Beast, widely regarded as one of the all-time great heavy metal albums.
With Dickinson as their focal point, Iron Maiden grew into one of the biggest metal bands in the world, thanks in no small part to his engaging stage presence and quasi-operatic range. His run with the band continued right up until 1993, although rumours of his departure had begun with the release of his first solo album Tattooed Millionaire in 1990. Following the split, he released four solo albums before returning to the fold in 1999. His sixth solo album, Tyranny Of Souls, came out in 2005.
In the meantime, Dickinson, had become a keen aviator. Over the years that followed, he qualified for his commercial pilot's licence and flew regularly for the now defunct Astraeus airline. He's flown flights repatriating stranded holidaymakers, RAF pilots and British citizens in the Lebanon, as well as taking Rangers and Liverpool to away games. In 2016, he flew Iron Maiden's "Ed Force One" Boeing 747 on the band's world tour, which was captured in the documentary Iron Maiden: Flight 666.
Dickinson is also a keen writer, publishing his debut novel The Adventures Of Lord Iffy Boatrace in 1990 and his memoir What Does This Button Do? in 2017.
In 2021, Dickinson announced a spoken word UK tour entitled An Evening With Bruce Dickinson, featuring tales from his colourful adventures over forty years on stage and in the air, for August 2021 – with the final two dates in London and Birmingham postponed and moved to 16 and 17 October 2021, respectively, due to Covid.
News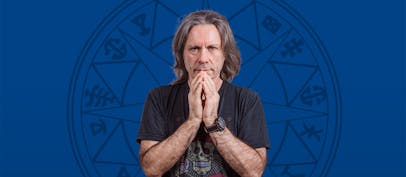 Bruce Dickinson postpones final two shows
Due to Covid-19, the final two dates of An Evening With Bruce Dickinson had to be moved. He'll now appear at O2 Shepherd's Bush Empire, London on 16 October and The Alexandria, Birmingham Alexandra on 17 October 2021. Original tickets remain valid.
FAQS
Bruce Dickinson announced UK tour dates for his spoken word show An Evening With Bruce Dickinson for August 2021, with two dates moved to 16 – 17 October 2021 due to Covid-19.

Dickinson will also play Download Festival in 2022 with Iron Maiden.

An Evening With Bruce Dickinson will stop off in the following UK locations:

August 2021

Brighton
Salford
Bradford
Nottingham

October 2021