Exclusive Access and Benefits for American Express Cardmembers


You can redeem or pay with points on any purchase on Ticketmaster, Including American Express Presale tickets and Reserved tickets.
• Check your points balance
HERE
• Find out more about Membership rewards here
HERE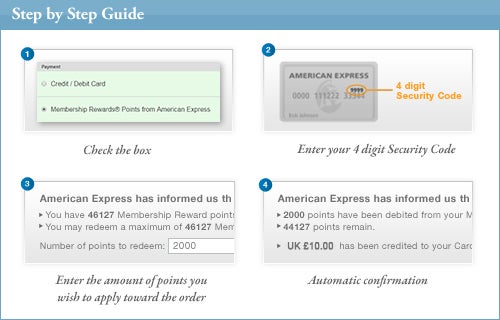 Restrictions
To qualify, you must be enrolled in the Membership Rewards program.
You may have enough points to cover a portion of the ticket cost (minimum 2,000 points) or use points to cover the entire cost of the transaction.
Your account must be in good standing order.
Orders failing to qualify will remain charged on the card and are valid and subject to the venue's and Ticketmaster's no refunds/no exchange policy.
Unsure of your Membership Rewards points balance? Please click here.
Corporate Cardmembers with only the Corporate Card enrolled in the program may not redeem for this reward.
Permitted returns of Ticketmaster tickets that result in a credit on your Card account will not automatically result in a credit to your Membership Rewards (R) account. In order to retrieve a Membership Rewards credit, please call the Membership Rewards program.