R&B/Urban Soul
Alicia Keys
About
Multiple Grammy-winning songstress with a voice full of heart and soul
A real Renaissance woman, Alicia Keys is one of the most successful R&B artists of all time, her soulful voice and adept piano skills bringing her accolades all around the world.
Born in 1981 as Alicia Augello Cook, she began playing piano at the age of seven and by 11 was writing her own songs. As a teenager, Keys attended Manhattan's Professional Performance Arts School and immediately after signed with Columbia Records before moving to Clive Davis' label, J Records.
By the age of 20, she found herself propelled on to the international music scene, where she's been a firm fixture ever since. Her first studio album, Songs In A Minor, came out in June 2001, debuting at the top of the Billboard 200 chart. Its lead single, Fallin', also topped the Billboard 100 singles chart for six weeks, with subsequent single, A Woman's Worth, climbing to the No.3 position.
Keys' second studio album, The Diary Of Alicia Keys, was released in 2003 and certified quadruple platinum. This was followed in 2005 by her Unplugged album, which not only reached the No.1 spot on the Billboard charts but sold almost 200,000 copies in its first week alone.
A third studio album, As I Am, followed in 2007, with her fourth, 2009's The Element Of Freedom, giving Keys her first UK No. 1 album. The release of Girl On Fire in 2012 and Here in 2016 saw her put two more chart-topping albums under her belt.
Alicia Keys has numerous film and TV credits as well, including appearances on several series of The Voice as a coach. A strong force in the world of philanthropy, she's active in the fight against AIDS and racial injustice as well as an advocate for women's rights and protecting children.   
On 31 March 2020, Keys published More Myself. Part autobiography, part narrative documentary, this introspective book examines her life experiences and how she learned to be herself.
Her seventh studio album ALICIA containing the critically acclaimed singles Underdog and Show Me Love was released on on 18 September 2020 and celebrated with a special Unstaged livestream performance.
Keys was set to make her long-awaited return to touring with ALICIA – The World Tour in 2020, but rescheduled the UK leg of her tour to June 2022.
News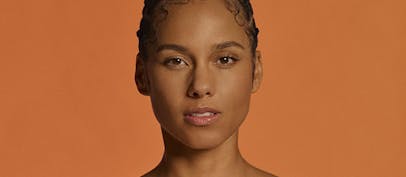 Alicia Keys reschedules UK dates
The soulful singer has moved her ALICIA – The World Tour shows in support of her latest album to June 2022. Original tickets remain valid for rescheduled dates.
FAQS
Alicia Keys will stop in the UK with ALICIA – The World Tour in support of her seventh album from 9 – 13 June 2022.

ALICIA – The World Tour is coming to three UK arenas on the following dates:

Arena Birmingham on 9 June 2022
Manchester Arena on 11 June 2022
The O2, London on 13 June 2022

Tickets for Alicia Keys 2022 tour dates are on sale now. Original tickets remain valid for rescheduled dates.

In addition to new music, Alicia Keys will bring her classics – including No One, If I Ain't Got You and Girl On Fire – to life in a special multimedia experience.

She picked the surname Keys in reference to piano keys.

Alicia Keys is a classically trained pianist but her sound combines elements of classical music with R&B, hip hop, soul and jazz.

She released Songs In A Minor in 2001, with the title deriving from the fact that she likes playing piano in minor keys and her given name starts with the letter A.

Among Alicia Keys' most popular songs are the following:

No One
If I Ain't Got You
Fallin'
Girl On Fire
Underdog
My Boo
A Woman's Worth
You Don't Know My Name

Alicia Keys was born on 25 January 1981 in the Hell's Kitchen neighbourhood of New York City.

Alicia Keys is married to record producer, rapper and DJ Swizz Beatz, and they have two sons.