A-HA TICKETS 2020 - UK TOUR DATES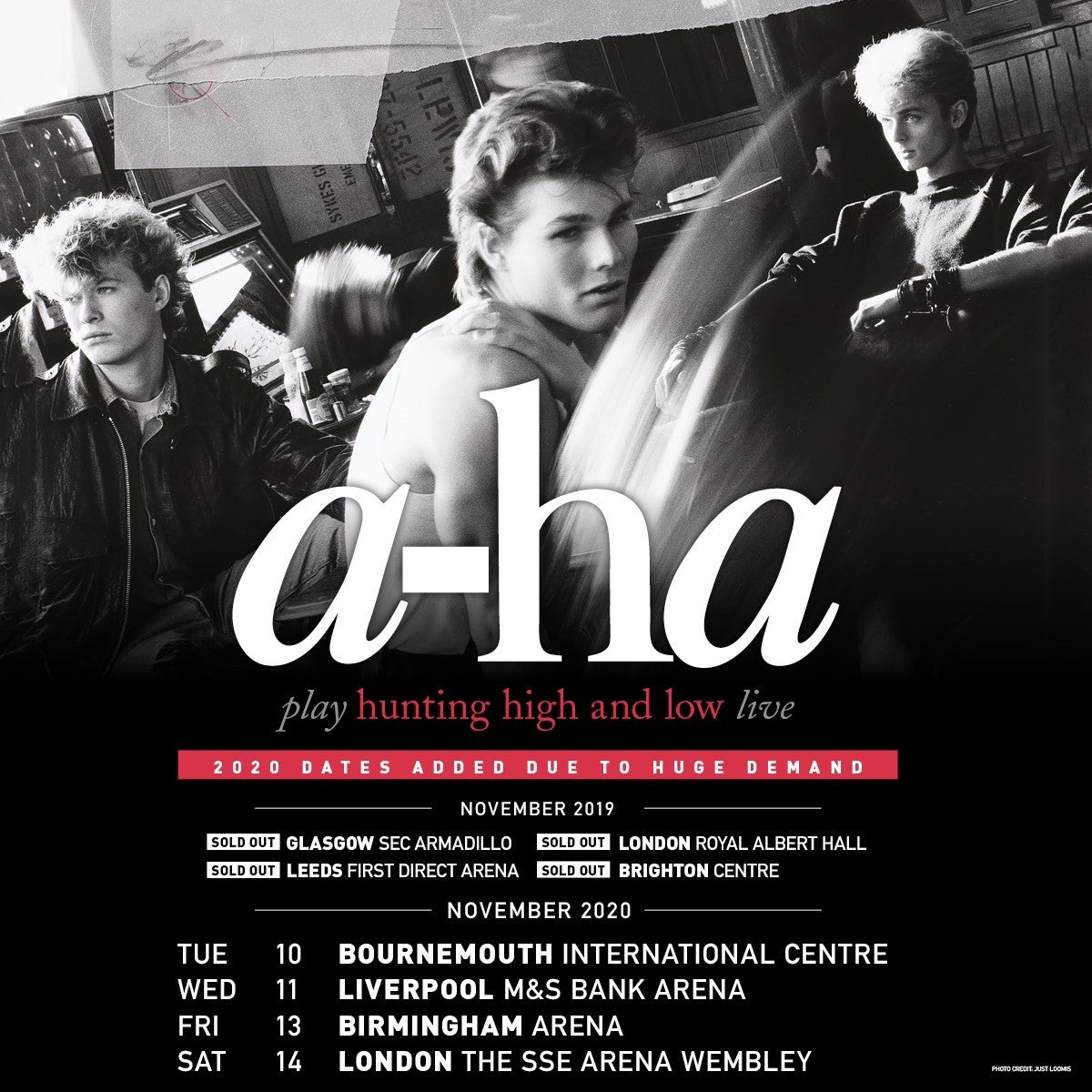 A-ha have announced a brand-new UK headline arena tour for 2020. A-ha are going on a four-day Hunting High and Low UK tour from 10 - 14 November 2020, visiting London, Birmingham, Liverpool and Bournemouth.
A-HA TICKETS
A-ha tickets for their UK 2020 tour are on sale now. View all A-ha tickets here by date, location and venue. Tickets for the 2020 UK Tour are available along with Hotel Packages and VIP Tickets. A-ha are touring the UK from 10 November 2020 in Bournemouth before finishing the four-date run of concerts in London on 14 November.
Tuesday 10 November 2020
Bournemouth
Bournemouth International Centre
Wednesday 11 November 2020
Liverpool
Liverpool M&S Bank Arena
Friday 13 November 2020
Birmingham
Birmingham Arena
Saturday 14 November 2020
London
Wembley The SSE Arena
HOTEL TICKET PACKAGES
A-ha hotel and ticket packages are available for this tour. Find a hotel near the concert venue in each city.
The hotel packages include a one-night hotel stay along with tickets for the night of the concert.
**Ticketmaster UK Limited is selling Hotel packages on behalf of Sound Travel Group Limited who are solely responsible for delivering the package and the quality of the products and services to be provided. Please see the terms and conditions of Sound Travel by clicking here.
ABOUT A-HA TOUR 2020
A-ha are a Norwegian band made up of members Paul Waaktaar-Savoy, Magne Furfholmen and Morten Harket. The band found huge commercial success with their synth-pop and alternative new wave sound, rising to fame in the 1980s and continuing their success into the 21st century. A-ha are playing four sold-out concert dates on their Hunting High and Low 2019 Tour to celebrate the 35-year anniversary of the release of the original version of their hit song, Take On Me, in November 2019.
Due to huge demand A-ha have announced four extra dates and are touring the UK in November 2020, playing a limited run of concerts in Bournemouth, Liverpool, Birmingham and London. For the first half of the concert, they will play the ten songs of their 1985 debut album Hunting High And Low in the running order of the original release. Then, after returning to the stage, they will play new and old, familiar and less-familiar songs.
A-ha tickets for their 2020 UK tour are on sale from 10:00 on Friday 8 November 2019.
HISTORY
A-ha first formed in 1982 in Norway, finding their big break with their debut album Hunting High and Low in 1985 and the hit singles Take On Me and The Sun Always Shines on T.V. The trio consists of lead singer Morten Harket, guitarist Paul Waaktaar-Savoy and Magne Furfholmen on guitars and piano. The band's career has spanned more than three decades, performing over 600 concerts in 38 countries around the world. A-ha have released 10 studio albums alongside three live albums.
The band's MTV Unplugged tour in 2018 proved that their songs could be completely reimagined and still remain as alive and as impactful as ever. Their song Take On Me was first issued in the UK on 19 October 1984 to reputed sales of just 300 copies. The re-recorded Take On Me was released in Britain during April 1985 but again failed to find an audience. It was in America that it finally hit big – in May 1985 – after its striking animated video was in heavy rotation on MTV. The video remains one of the most distinctive music videos in the 1980s, winning six MTV Video Music Awards in 1986. The single was reissued in the UK following its US success and finally Take On Me was a UK hit, going on to become one of the best-selling singles of all time with over seven million copies sold worldwide.
FAQs
Where are A-ha going on tour?
A-ha are going on tour across the UK in 2020, playing concerts in Bournemouth, Liverpool, Birmingham and London from 10 - 14 November.
When are A-ha going on tour?
A-ha are touring the UK, starting from 10 November and finishing on 14 November. The doors for each concert will open at 18:30 and curfew is at 23:00.
A-ha Tour 2020: View A-ha concerts and tour dates by location and venue below:
Are VIP tickets available for A-ha concerts? What's included in A-ha VIP tickets?
VIP seating tickets and VIP standing tickets are available for A-ha concerts. These include a top priced ticket, limited edition lithograph VIP tour poster, a VIP tote bag, collectible laminate and lanyard, along with a merchandise item designed and created exclusively for VIP package purchaser.
Are hotel packages available for A-ha concerts? Where can I find hotels near the show?
A-ha hotel packages are available near each concert venue for the tour. The hotel packages include a one-night hotel stay along with tickets for the night of the concert.
See hotel packages for A-ha's 2020 tour below:
Please note that hotel packages are provided via Sound Travel. You can read full terms and conditions here.
What are some of A-ha's top songs?
A-ha have released 10 studio albums along with various compilations and deluxe reissues.
Listen to some of A-ha's songs and greatest hits here:
Listen to A-ha's albums and full discography on their Spotify account. You can also watch A-ha music videos on their official YouTube account.
Where can I buy A-ha tickets?
You can buy A-ha tickets right here at Ticketmaster! Buy tickets safely and securely here. VIP upgrades and hotel packages are also available.
How much are A-ha tickets?
Tickets start from £39.50 plus booking fee, subject to availability. See all ticket prices and availability here.
When will I receive my tickets?
You should receive your tickets five days before the event. Head to our help page for more ticket information.
Are accessible tickets available for the concert?
Accessible tickets are available. Please contact each concert venue linked above for specific access information. Read more about accessible tickets on our Accessibility Help Page for general information about access and events.
Can I sell my A-ha tickets?
Please note that tickets cannot be resold and should not be listed on secondary sites. There is a ticket limit of six per person.
Top