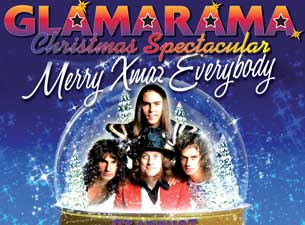 Tribute Bands
Glamarama Tickets
Glamarama Tickets and Concert Dates
Biography
It'sssssssss Christmaaaaaas, as Slade's Noddy Holder might have had it, but you don't really need an excuse for a glorious night of cheesy fun.

It's the time for paper hats and ill advised dancing, where even the shyest office wallflower is convinced they're in the Strictly final. And it's strictly fun only here tonight, as no excuses will be accepted on this, the most festive of Glamaramas.

Expect the usual non-stop good tunes, good times and the odd Christmassy surprise (ok we mean snow) as we deliver more glam, more tunes, and more damn excitement than Santa could ever stuff in his big sack. And absolutely, positively no Aled Jones!